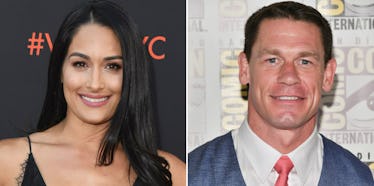 This New Update On Nikki Bella & John Cena Could Mean They're Over For Good
Jon Kopaloff/Dia Dipasupil/Getty Images
Nikki Bella and John Cena's relationship has been through a lot of ups and downs this past year, and while things were starting to look up for the couple and a reconciliation seemed inevitable, their relationship is starting to look like less and less of a sure thing. This Nikki Bella and John Cena relationship update doesn't bode well for the future of the couple (or the couple's fans), and it marks a huge change in Nikki Bella's life.
According to TMZ, Bella has decided to move out of Cena's house and is house hunting for a place of her own. Elite Daily reached out to Bella's team for comment, but did not hear back by the time of publication. She's reportedly solo house hunting as part of her goal to gain more independence, so while this is sad news for her relationship with her ex-fiancé, it's still a positive move for Bella on her own. Outside of saying time and time again post-breakup that Cena is her best friend and she still cares for him, Bella has also stressed how much she lost her sense of self throughout the course of their relationship and that finding her independence was a huge contributor to their breakup. The possibility of her moving out of Cena's house in California and into her own is a move fans will hopefully support.
The Total Bellas season finale is coming up this Sunday, July 29, and it's going to finally show the moment Nikki Bella and John Cena broke up.
In the trailer for the season finale, Bella says, "John and I, we might be calling off the wedding." Of course, viewers already know that that "might be" turned out to be a definite. She says later in the trailer, "I couldn't be happy at my bachelorette. I couldn't be happy at my engagement party. There is something that is making me not feel like I can walk down the aisle right now."
Brie Bella adds right after, "He lost the woman of his dreams." Get your tissue boxes ready for this episode, Total Bellas fans. I have a feeling there won't be a dry eye in the house.
Previous reports about their relationship stated that the couple was actively working toward reconciliation, but just because they wanted things to work out doesn't mean they were going to. It seems like, despite their best reconciliation efforts, the relationship just isn't going to work right now. Honestly, I don't blame Bella for wanting her independence, and I'm not surprised to hear that their efforts to get back together haven't resulted in anything just yet. Bella and Cena only broke up a couple of months ago, and that breakup came after six years worth of struggle in their relationship.
Bella stuck it out through Cena's commitment issues, his intense rules about living together, and his not wanting to have kids despite her desire to be a mom — and those are just the issues they let us hear about. Cena backtracking after they broke up and saying he wants to be the "father of her children" now isn't going to erase six years of issues in a relationship. And while there's certainly no bad guy in this situation, it's realistically going to take Bella much longer than a few months to heal from the hardships of their relationship. Good for her for focusing on her independence.