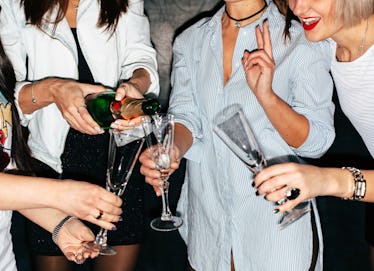 This New Year's Eve Flight Takes You Around The World For A 24-Hour Party
An evening at home with takeout containers and sips of bubbly is for quitters if you ask a particular group of travelers. For those who are looking to ring in 2018 on an adventurous note, you have to do so twice. This New Year's Eve flight allows you to relieve the holiday magic with a 24-hour party, and it's a celebration like no other (with a price tag like no other as well).
While most of us are preoccupied picking out NYE dresses and cleaning champagne flutes, free spirits are packing their bags for a flight of a lifetime. PrivateFly offers an exclusive trip so thrill-seekers have two shots at a NYE get-together. "You can enjoy a full evening of celebrations and the stroke of midnight in Sydney," the PrivateFly site reads. "Then — if you have the stamina (and the budget) — jump onboard your private jet and fly to Hawaii, to do the same all over again."
Dinner Down Under (with fireworks) followed by an afternoon on the Hawaiian beach and round two? If I had an extra $290,000 lying around (the whole aircraft charter cost) I'd want the chance to do a double whammy —though I'd be slightly concerned about missing The Honeymooners marathon on Pix.
"This is the ultimate way to see in 2018, in two of the world's most glamorous locations," according to Carol Cork, marketing director of PrivateFly. "The flight time from Sydney to Honolulu in a Gulfstream G650ER is 9 hours and 40 minutes, so with the 21-hour time difference, you get to replay over 11 hours of party time, by flying eastwards."
Do you have what it takes to handle PrivateFly's ultimate NYE celebration? Can you handle NYE twice?
If you're not up for this intense and expensive challenge, fear not. There are plenty of other exciting options available (and ones that are kinder on your wallet). According to Kayak, there are particular locations that many travelers have been buzzing about for their Dec. 31 trips, so if you haven't booked your getaway, now is the time to start taking notes. The travel site rounded up the top 10 trending New Year's Eve destinations picked by fans, and it's certainly inspiring (and allows for a little bit of a breather, unlike PrivateFly's trip).
Curious about where you and your special someone should share a midnight kiss? Have a look at Kayak's findings:
Guadalajara, Mexico
Kingston, Jamaica
Mexico City, Mexico
Amsterdam, Netherlands
Lisbon, Portugal
Barcelona, Spain
Paris, France
Madrid, Spain
Montréal, Canada
Athens, Greece
"The 10 destinations on the list are the ones seeing the greatest increase in New Year's Eve searches year-over-year. Overall, we continue to see warm weather destinations make the top trending New Year's Eve lists as people look to escape the cold before going back to work and reality," Kayla Inserra, Kayak's PR manager for North America tells Elite Daily. "Europe also continues to be a hotspot for New Year's Eve travelers."
If you're more inclined to start the new year at home and wait for the summer before embarking on a plane trip, that's totally cool, too. Grab your loved ones, get ready for a movie marathon, and get your champagne jello shots ready. There is no right or wrong way to bid adieu to 2017, so whatever works for you, embrace it.
Regardless of how you celebrate Dec. 31, 2017, make sure you do something. This year has been tumultuous, and we can all use new beginnings for 2018. Cheers!
Check out the entire Gen Why series and other videos on Facebook and the Bustle app across Apple TV, Roku, and Amazon Fire TV.