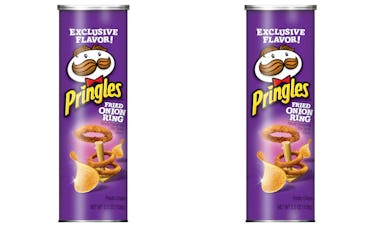 Pringles' New Onion Ring Flavor Will Remind You Of Your Fave Appetizer
Courtesy of Pringles
With back to school season in full swing, there are just so many new treats available to get you through the hectic fall days. Even though you can always fall back on classic snack flavors like Original Pringles, it's always great to take the opportunity to shake up your routine with newly released editions. The new Pringles flavor to try this season is Fried Onion Ring, which hit stores on Sept. 18 and is a limited-edition product. This new Pringles Fried Onion Ring flavor is a flavorful twist to your favorite potato chip snack.
The Pringles Fried Onion Ring Flavor hit shelves at 7-Eleven stores on Sept. 18, a representative for Pringles shared in an email with Elite Daily. Since Pringles is exclusively partnering with 7-Eleven for this product, you'll want to head over to any of the 7-Eleven stores nationwide to get a taste of the new and unique flavor. A can of Pringles Fried Onion Ring costs $2.49, and it's only available while supplies last, so don't waste any time.
Instagram foodie account @Candyhunting got a sneak preview of the new flavor and gave a full debrief about the chips in an Instagram post on Sept. 15. The post revealed the design with a photo of the Pringle cans, which feature a purple background with onion ring graphics. @Candyhunting reviewed the taste, commenting, "While not being incredibly innovative, these are one of my favorite Pringles in a while. The flavor is simple; it's pretty much onion powder. But I can't stop eating them. 7.75/10." Fans had many initial thoughts about the new flavor and many were eagerly anticipating its national release in 7-Eleven stores. Instagram user @alizpt commented on @Candyhunting's post, "Man those sound good," while @tshensley99 wrote, "How have I never had this flavor before?"
The Instagram post also detailed how a similar flavor, Crispy Onion Ring Pringles, was launched in Canada earlier this year. The Crispy version was spotted at Walmarts in Canada with a noticeably different yellow and turquoise can design. Similarly, other variations of Onion Rings Pringles have graced shelves in many other countries.
It's not surprising that Pringles unveiled a new Onion Ring flavor, since the flavor has proven successful for many other potato chip companies. Fans of anything onion-y will be familiar with the classic Funyuns Onion Flavored Rings, which are always a hit at gatherings. The snack magnificently combines the zesty flavor of onion with a crispy texture. Ruffles also introduced beer-battered onion ring flavored potato chips all the way back in 2013. According to a February 2013 press release, the chips were designed to be a crunchy, onion-y-flavored snack that one can load up on at a bar or tailgate party. The press release described the hype surrounding onion rings: "The onion ring has gained more popularity than some of our favorite pop-culture icons, humorously showcased in social media memes across the web."
The wide variety of onion ring products available really does point to the zesty flavor as a national favorite. Stock up on your limited-edition Fried Onion Ring Pringles while you can, because fans across the country will undoubtedly be racing to get a taste.