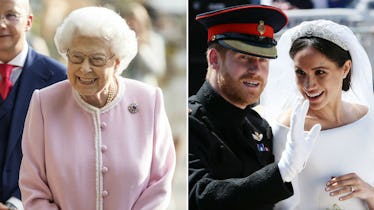 Here's A Tiny Clue That Prince Harry & Meghan Markle Are The Queen's Favorite Couple
WPA Pool/Getty Images Entertainment/Getty Images; Aaron Chown - WPA Pool/Getty Images
I'm not here to pick favorites (Meghan and Harry) but by the looks of a new photo (of Meghan and Harry) it looks like the Queen might be. There's a new image circulating the internet with one suspicious clue in the background that might suggest her majesty loves the newlyweds just a teensy bit more than anyone else right now. Of course, I would never say that with any level of seriousness, but they are definitely prominently featured in her palace. A new photo of Prince Harry and Meghan Markle can be seen propped up in front of all the other family photos in a picture of Queen Elizabeth meeting the Australian High Commissioner, George Brandis.
Based on the looks of it, fans have never seen the framed picture until now. If you zoom in very closely you can see Meghan Markle, Duchess of Sussex in a white dress with her hand on Prince Harry, Duke of Sussex's chest. Even from here you can tell how beautiful they are together. It's interesting to peek inside the Queen's abode and see framed pictures of her friends and family just chilling on a side table like she's a regular grandmother. Of course, Queen Elizabeth and George Brandis are all business in their photograph, but that's not what's important here.
Take a look.
Do you see it?
There it is.
Of course, it could just be this is the most recent family picture obtained by the Queen and therefore she put it in front. As you, me, and everyone's mother knows, Harry and Meghan just had the wedding to beat all weddings and they're probably just at the forefront of the royal family's brains right now. After all, the Queen did throw the first (yes, the first) reception for her grandson and new granddaughter after their ceremony.
According to Harper's Bazaar, the first party was held at St George's Hall in Windsor Castle and was hosted by the Queen. There were 600 guests in attendance who were lucky enough to be served Pol Roger Champagne and witness the cutting of the cake. Apparently, St George's Hall is where the Queen holds most of her important dinners, making it particularly special for Prince Harry and Meghan.
Later, Prince Charles threw a more "intimate" reception at The Frogmore House which consisted of only 200 guests. This is also where Meghan gave her now famous speech and recited a love poem to Harry. According to one lucky insider, Meghan's words left everyone teary eyed. The insider told The Sun,
Meghan totally stole the show. It was the most special part of the entire day and the most unexpected. She read her poem like the professional actress she is. Most of the room was ­misty-eyed by the final line. Harry looked so proud and had to wipe away a tear.
No telling if it made the Queen misty-eyed, but then again, when has anything ever? I've only seen her with basically one expression on her face as long as I've been alive which is a cross between "When is this sh*t over?" and "I'm the boss."
The truth is, Prince Harry and Meghan's wedding broke tradition in more ways than one, but at the end of the day, they still have her majesty's blessing and a prime spot on her family photo side table. Now, if only she would be so kind as to make us all copies so I can hang it next to my own high school senior photo, that'd be great.
Check out the entire Gen Why series and other videos on Facebook and the Bustle app across Apple TV, Roku, and Amazon Fire TV.