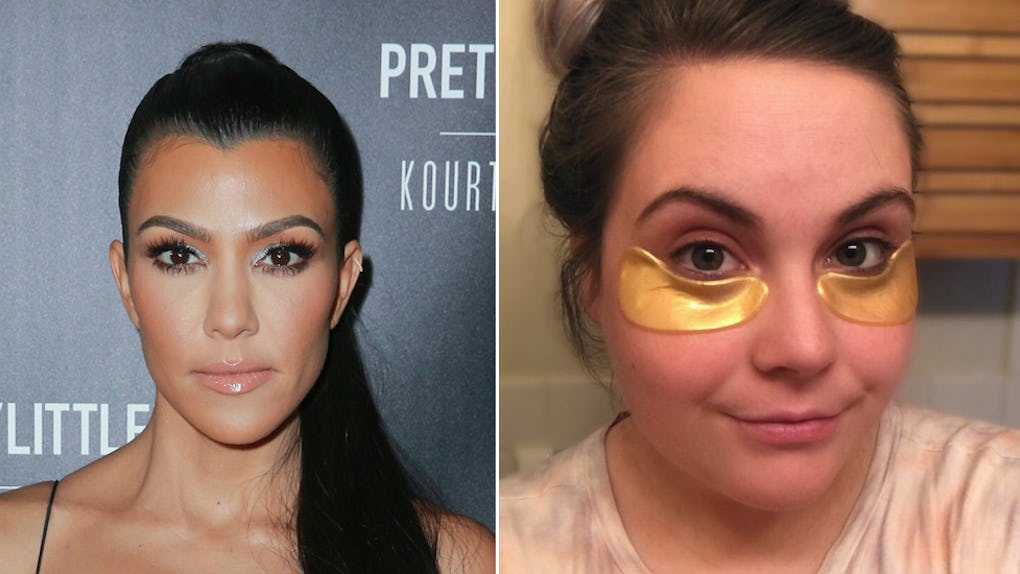 Rich Fury/Getty Images Entertainment/Getty Images // Theresa Massony
This MZ Skin Golden Eye Treatment Mask Review Will Convince You To Mask Like A Celeb
You've been there before: You're scrolling through your Instagram feed when you see your favorite celeb post about their favorite new product — a face serum, vitamins that will make your skin brighter, or a specialty food service. You can't help but want to be like the stars, but are the products worth it? In Elite Daily's new series, I Tried, we put it all to the test. We're trying those products as well as celebrities' health and wellness tips, recipes, and life hacks. We'll do the leg work and tell you what living like your fave star is really like.
Hi, my name is Theresa, and contrary to what I'd like to believe, I'm not a Kardashian. Major bummer for me. Major relief for the Kardashians, probably. Regardless, I'm still holding out hope Kris Jenner will adopt me. In the meantime, though, I spend my time trying products the Kardashians use that will hopefully make me feel like one of the fam, at least. And even though I may not be a member of the Kardashian bloodline, my review of MZ Skin's Hydra-Bright Golden Eye Treatment Mask sure made me feel like I was a celebrity, and my under-eyes deserved their own reality show.
MZ Skin is a skincare brand founded by Dr. Maryam Zamani. Hailing from London, England, Dr. Zamani is an oculoplastic surgeon and facial aesthetics doctor, meaning she knows a thing or two about the face and its appearance. (@Dr. Zamani, please help me.) While MZ Skin carries all your tried-and-true skincare staples — moisturizers, cleansers, serums, and masks — perhaps the buzziest product in the line is their Insta-viral Hydra-Bright Golden Eye Treatment Mask ($106 for a pack of five, mzskin.com).
The mask, formulated with "anti-aging actives," is designed to provide intense hydration to your under-eyes, all while improving their elasticity, firmness, and the appearance of dark circles. It also helps to eliminate puffiness and lessen the look of any fine lines or wrinkles. Now, I'm not, like, "write a will and go casket shopping" old, but let's just say, if you zoom in on my crow's feet, you'll see that they spell "stressed AF."
Also, when MZ Skin says golden, they mean golden. Not only are the under-eye masks a bright AF gold color, but they're infused with nano gold particles to give your under-eyes a brighter, more radiant glow... you know, so you look like you got a cool eight hours of sleep and not like you were up until 3 a.m. watching clips of Keeping Up With The Kardashians. (Anyone? Anyone? No? OK.)
You're probably wondering why I keep making Kardashian references. First, this is just who I am as a person. Second, according to the brand, these golden eye masks boast a number of famous users, including Adriana Lima, Camila Cabello, and none other than who is, IMHO, the most interesting Kardashian to look at, Kourtney Kardashian. It makes sense celebs are into these masks. The surge of hyaluronic acid and collagen in the masks provide dry, sleep-deprived eyes that likely haven't rested in 14 hours with a quick-and-easy wake-up call in the form of radiance and all-around glow.
Though I may not be jet-setting around the world quite like a celeb (plane tickets are expensive, and I have $20 to my name), the dark, puffy circles under my eyes tell me otherwise. So naturally, I was excited to try the golden eye masks out. Anything to put me one step closer to feeling like a Kardashian.
Luckily, the masks come in a vacuum-sealed pack filled with liquid (to keep them infused with moisture), so you can take it anywhere. While a celeb might throw a pack in their bag to use while lounging on a private jet, I kept mine in my hand and took it all the way to my bathroom. Same thing, right?
For reference, here's what my eyes looked like before using the masks (sexy!!!!!!):
As you can see, my dark under-eyes and bags come ready to party at all times. So after washing my face with my cleanser of choice, I carefully ripped open the pack of golden eye masks and got started. Immediately, I noticed each mask was almost jelly-like in texture, which felt both strangely satisfying and weirded me TF out. I also noticed each mask was indeed wet, but not as saturated as, say, a sheet mask might be, making it a lot easier to handle on the go.
I placed each mask directly under my eyes, with the thinner end of the mask closest to my nose. The instructions say to leave the masks on for 15 minutes, and for those next 15 minutes, I stared at myself in the mirror, imagining what it would be like to be a strong, rich AF business woman who also stars on a reality show with her famous siblings and has three beautiful children. You know, the usual.
For yet another reference, here's what the eye masks look like on me:
As I mentioned just above, the masks were not at all as saturated as a sheet mask is, so I felt like I was free to go about my business as normal without fear of sticky wetness dripping down my face and neck. Once the 15 minutes were up, I said goodbye to the gold jelly under my eyes, and lightly rinsed my under-eyes with water, as the instructions suggest. Finally, I patted my face dry, looked in the mirror, and almost peed myself after realizing I had morphed into Kourtney Kardashian...
...OK, obviously that didn't happen, but I did notice the puffiness under my eyes had subsided a bit, as had the darkness. While the masks didn't necessarily banish these things completely, I thought the difference was actually pretty good for a first-time, one-time use, and I could tell my under-eyes felt significantly more hydrated, which is always a good thing.
Use the swipe tool below to feast thine eyes on the end result:
Left Image:
Theresa Massony
Right Image:
Theresa Massony
The brand does suggest popping the the masks in the fridge about five to 10 minutes before you use them if you want to experience a pleasant cooling sensation as you mask. I'd venture to say the coolness of the masks might also help even more when it comes to their de-puffing capabilities.
All in all, am I a Kardashian now? LOL, no, I never will be. But did I feel as cool as one while wearing an eye mask infused with gold particles? You bet your a** I did. Whether you're running around like wild one day and need a quick way to freshen up your eyes or you're having a lazy day at home but still want a little pamper sesh, MZ Skin's Golden Eye Masks are, indeed, an easy way to brighten up your look.