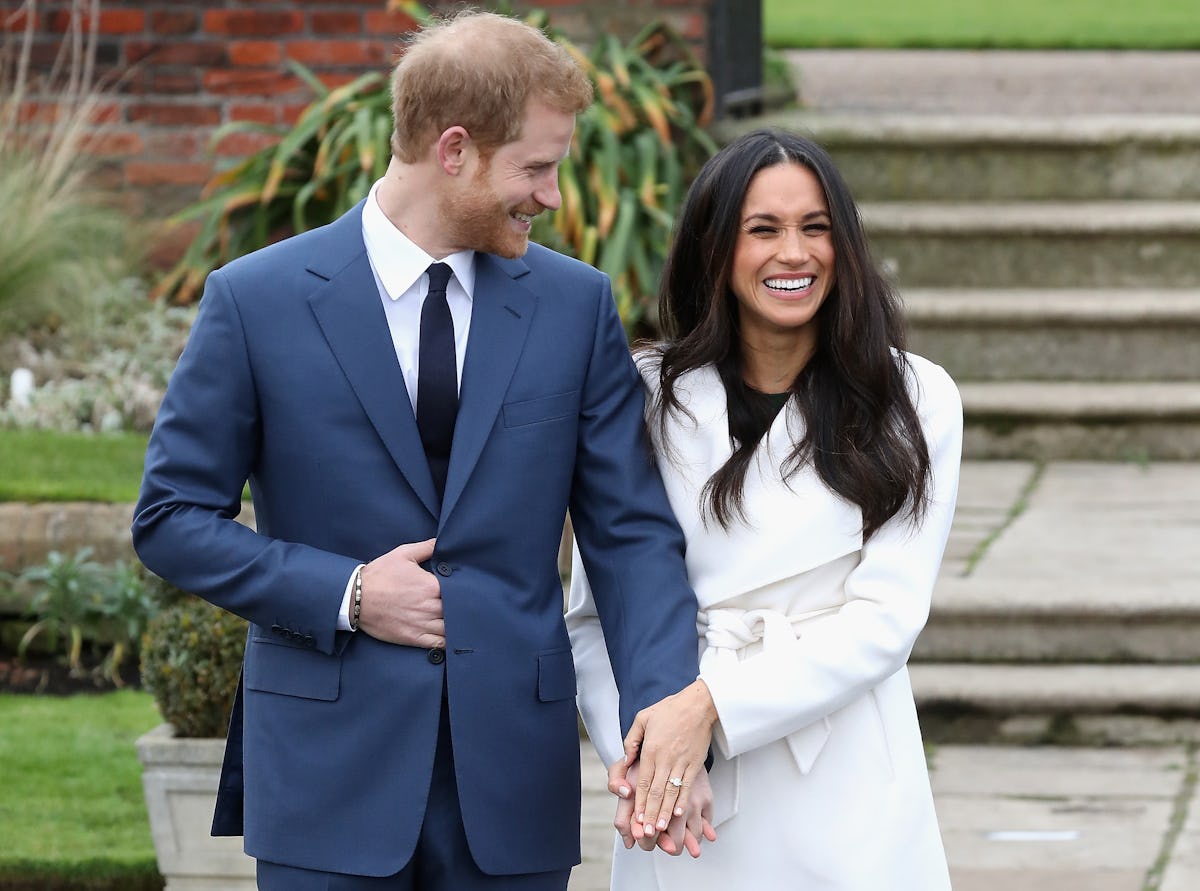 This 'Love Actually' Meme About Prince Harry & Meghan Markle Will Give You All The Feels
Chris Jackson/Getty Images Entertainment/Getty Images
In the event that you've been living under a non-royal rock for the last few days, news flash: Prince Harry and Meghan Markle are engaged! Everyone is loving it, even though it means another prince is off the market. Not only are they both really, really, ridiculously good-looking, but they both seem so down-to-earth, like you could almost be friends with them, if, you know, you rolled with a crew who casually hangs with the Windsor family. NBD. People on social media are losing it, already posting memes about the royal couple, because we live in a world where that's essentially how news is digested (how lucky are we?). But there's one in particular — a Love Actually meme about Prince Harry and Meghan Markle — that's circulating around the internet, and you guys, it is SO GOOD.
For you heathens who have never seen the movie Love Actually, Liam Neeson plays Daniel, who is raising his son Sam, played by Thomas Sangster, alone in the UK after the death of his wife. Sam falls head-over-heels for his American classmate, Joanna (played by Olivia Olson), and decides to learn to play the drums so that he can be alongside Joanna for their school's Christmas pageant. Cute, right?
But Sam feels like he didn't make the best impression, and thinks he's missed his shot with his American crush, and, go figure, she's leaving to go back to the good ole US of A. So Daniel and Sam do whatever any hopeless romantic father and son duo would do: catch Joanna at the airport before she leaves for America, so that Sam can dodge airport security and tell her how he feels (or just sheepishly acts astonished when Joanna knows his name and becomes shocked into silence). But his grand gesture earns him a kiss on the cheek, because a kiss on the lips would be extremely weird for children their age.
So what does all of that have to do with Prince Harry and Meghan Markle? Well, look at the meme below and see if you can spot any similarities. Anything noticeable. I'll wait.
DO YOU SEE IT?
Obviously, the top and bottom pair on the left is Prince Harry and Meghan Markle, and next to each, respectively, is Sam, an adorable redheaded boy, and Joanna, a beautiful brunette.
You cannot —CANNOT — tell me that the characters who played Sam and Joanna don't look like they could be younger versions Prince Harry and Meghan Markle. BECAUSE THEY DO. THEY ABSOLUTELY DO.
Also, if you were paying close attention to my story-time about Love Actually, you'll have learned that Sam is a British boy trying to win the heart of an American girl. Sort of like a British Prince Harry trying to win the heart of an American Meghan Markle.
CAN. WE. JUST.
CAN YOU EVEN?
It's almost as if Love Actually predicted this?
Don't we find this is just a tad more than coincidental that the plot for these Love Actually characters are sort of exactly like the royal couple's love story? Come on. COME ON!
Twitter absolutely caught on to the meme, and were loving the correlation:
And even though the way Prince Harry and Meghan Markle met was astonishingly normal (apparently, it was just meeting from a friend of a friend, and that makes me seriously reconsider who I've made friends with), I think from here on out I'm going to pretend that they are the real-life versions of Sam and Joanna, because that's a love story that I can totally get behind.
Though the same can't be said about how Prince Harry proposed, because it involved roasted chicken, so I wouldn't change a damn thing about that:
Their love (actually) is real, you guys.