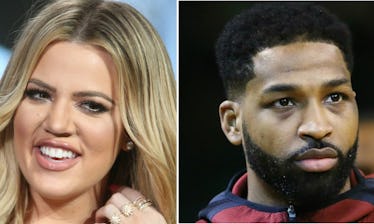 How Tristan Thompson Reportedly Feels In His Relationship Will Leave You Speechless
FREDERICK M. BROWN/MADDIE MEYER/GETTY IMAGES
I have not been the biggest Tristan Thompson fan ever since the news broke that he allegedly cheated on Khloé Kardashian while she was busy growing a baby in her womb. And I was straight up shocked when she decided to stay with him. But — BUT! — ever since little True was born, Thompson has seemed like he's gotten his shiz together, and KoKo's been pretty much all smiles (at least on social media). So hey, if my girl is happy, then I'm happy, you know? HOWEVER, I draw the line at this new Khloe Kardashian and Tristan Thompson relationship update. Trust me, when I tell you that it will enrage you if it's true. Because it is not OK, and now I am not OK, either! According to Us Weekly, Thompson apparently feels "trapped." And, like, dude: HOW FREAKING DARE YOU! Elite Daily reached out to Thompson and Kardashian's teams for comment on the report, but did not hear back by the time of publication.
"Khloé and Tristan are still not fully OK," a source told the publication. "They act like they are when they're in front of others, but it's all a show at this point." Do I believe this? I'm not so sure. I mean, remember the full-on PDA-sesh with his girlfriend that Thompson posted over on his Snapchat recently?
Here's a refresher:
Oh yeah, THAT PDA sesh. Def doesn't look fake to me. And let's not forget that on July 11, Kardashian posted a pretty sweet video of Thompson with baby True. And, like, why would she do that if she wasn't totally vibing with him? In the clip, the Cleveland Cavalier is holding his little girl while humming and dancing around her nursery.
Do you hear Khlo-Money laughing in the background? That sure sounds like happiness to me. But is it all one-sided? Because a SECOND source rolled up in the same Us Weekly article to claim that the Cavs star is NOT happy with the way things are playing out.
"Tristan is feeling trapped in a bad relationship," the source said. "He wants to go back to Cleveland ASAP."
Hold up. These two just returned to L.A. in mid-June after being stuck in Cleveland while the NBA star was playing for the Cavs in the NBA finals, so if anyone had a right to be feeling trapped, it was Kardashian, not Thompson. But — PLOT TWIST — Thompson is the one who wants out and I am not OK with this new development. Seriously, if this is true, Tristan, what's your damage? Khloé is a straight-up goddess and if you feel trapped, you are not even worthy! I mean, according to Source #2, the baller is reportedly not even showing up for the pair's couple's therapy anymore.
"He's no longer going with Khloé for sessions," the source said. "He just didn't feel it was helping to discuss sh*t that happened months ago."
I'm totally using that as an excuse from now on. "Oh, you're mad about that shirt of yours that I borrowed and got a big red wine stain on? That happened MONTHS ago so who even cares about it anymore?"
You know who cares about stuff that happened months ago, Tristan? I do! And I'm pretty sure Kardashian and her whole freaking family do, too. Because all Khloé wants to do is love and be loved, so stop whining and man up, or go back to Cleveland and let her just move on.
Either way, at least baby True seems to be surrounded by lots of love, and at the end of the day, that's really what matters the most. Still, I really hope Kardashian takes to social media soon to tell me this whole thing isn't true, because I'm starting to feel emotional.