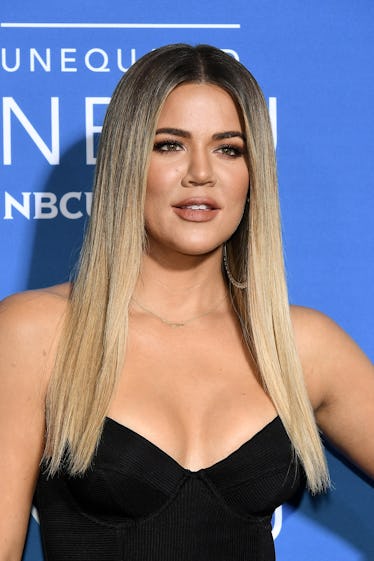 Khloe K Just Blasted Rumors She's In Couples' Therapy With Tristan Thompson & It Was Epic
Dia Dipasupil/Getty Images Entertainment/Getty Images
The party doesn't stop when you're a Kardashian, but neither does the rumor mill. Word is spreading Khloé Kardashian and her boyfriend Tristan Thompson might be in couples' therapy dealing with the aftermath of his alleged cheating scandal, but the Revenge Body host just hilariously set the record straight. Khloé Kardashian's response to rumors she and Thompson are seeking couples' therapy is witty, biting, and straight to the point. Elite Daily previously reached out to both Kardashian and Thompson's teams for comment on the therapy and cheating rumors but did not hear back by the time of publication.
Here's what's up: A woman named Lisa Stanley who claims she is a "family friend" to the Kardashians recently spoke with KIIS 1065 's Celeb HQ about Kardashian and Thompson's current relationship status. As part of her interview, she claimed Kardashian and Thompson are "one thousand percent working through couples' therapy," adding, "she's working hard, he's working hard. You can't just earn trust back in two months," and the Stanley didn't stop there.
Stanley also said she knows how Kardashian's mother, Kris Jenner, is feeling about the whole thing and weighed in on what she thinks the family matriarch would do if it was up to her. Stanley said, "If Kris and the family had it their way, [Khloé] probably would be leaving. They're not OK with this. This guy not only cheated on her, it was on video and the world saw it. And, she was humiliated. But, she's choosing to stay." She added, "If all they had it their way, Tristan would just be the baby daddy... Apparently he's a good father."
Hmm, don't you think a good "family friend" would know what kind of father Thompson is? Especially if she apparently knows so much about him and his family?
If you're smelling BS, you're on to something.
An account called Hollywood Unlocked shared Stanley's interview commentary on Instagram with the headline, "Khloé Kardashian and Tristan Thompson Are 'Working Through Couple's Therapy.'" It was accompanied by the caption:
According to Lisa Stanley, a friend of Kardashian family matriarch Kris Jenner, Khloe and Tristan are dedicated to rebuilding their bond following the birth of their daughter True Thompson.
While the news was quickly scooped up by other outlets all across the internet, Kardashian seemingly debunked this story with one swift comment.
She commented on Hollywood Unlocked's post, "Who is Lisa Stanley?"
Drop. The. Mic. Or in this case, the cellphone. Or whatever.
The truth is, even if Kardashian and Thompson are seeking professional help in their relationship, it's truly no one's business to discuss that with the press (even if you're a real close family friend). From here, it's clear to me and the rest of Kardashian's fans that she's doing what she feels is best for her and her family, and that's all anyone can ask of her. If she and Thompson want to work stuff out, the public has to suck it up and either get on board or get out of her newsfeed, because she will not tolerate nonsense.
And honestly, who is Lisa Stanley?