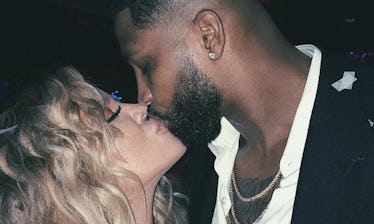 Khloé Kardashian Was Apparently Never Going To Leave Tristan Thompson For This One Reason
INSTAGRAM / KHLOE KARDASHIAN
Khloé Kardashian is not giving up on love, not for one second. And certainly not because of cheating rumors. When her beau Tristan Thompson was implicated in a cheating scandal by The Daily Mail back in April 2018, fans, friends, and family alike were dismayed that the then-pregnant Kardashian seemed to be sticking by him. It's been just over three months since all of that went down and the world is ready for a Khloé Kardashian and Tristan Thompson relationship update!
The latest juicy update comes via Kris Jenner's good pal Lisa Stanley, who was recently on KIIS FM's Celeb HQ. She had a lot of interesting things to say about Kardashian and Thompson's shaky relationship.
"She doesn't want to look a fool," Stanley told the radio station. "She was a fool once with Lamar, and she didn't want to do it again."
Oof! That's a rough take on the situation. Stanley is, of course, referring to Lamar Odom here, who is Kardashian's ex-husband. Kardashian and Odom divorced in December 2016. Kardashian had already moved onto her relationship with Thompson by then.
During her interview with Celeb HQ, Stanley offered some insight into Kardashian's mindset regarding her relationship with Thompson.
"Khloé was always going to try make this work, for a plethora of reasons," Stanley explained. "The first reason is she has a child now, and she feels very connected to Tristan in that way. The second reason is she loves him. She clearly loves the man. She was never planning on leaving him."
Kardashian and Thompson welcomed their daughter True Thompson on April 12, 2018, just days after The Daily Mail broke its rumored cheating scandal story.
In her interview, Stanley also said Kardashian and Thompson are in couples therapy.
"One thousand percent they are working through couples therapy," Stanley revealed. "She's working hard, he's working hard. You can't just earn trust back in two months."
Elite Daily has reached out to Kardashian's team for comment on Stanley's claims, but has not heard back at the time of publication.
In the months after Thompson's rumored cheating scandal broke, there were rumors going around that Kardashian's family wasn't happy with her decision to stay with him. Stanley took the opportunity to address those rumors and, according to her, they're true!
"If Kris and the family had it their way, she probably would be leaving," Stanley said. "They're not OK with this. This guy not only cheated on her, it was on video and the world saw it. And she was humiliated. But she's choosing to stay."
She also explained that the Kardashian-Jenner clan would rather Tristan keep his distance, but still be involved in baby True's life.
"'If all they had it their way, Tristan would just be the baby daddy," she revealed. "And be very much involved. Apparently he's a good father."
Stanley's interview comes just a few days after Kardashian posted videos to her Snapchat showing Thompson bonding with baby True.
Clearly, Thompson loves being a dad. And it really seems like Kardashian loves having a little family of her own. It's great to hear she's trying to work things out. If she loves him, she loves him. There's nothing anyone can do about that!