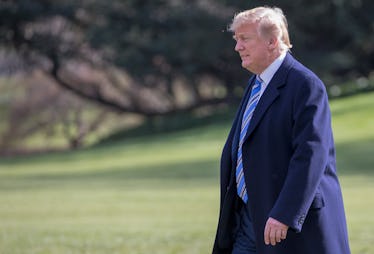 This Hilarious Fake Craigslist Ad Is Roasting Donald Trump's Legal Drama
Tasos Katopodis/Getty Images News/Getty Images
If there is anything that the Trump administration has been known for, it's the seemingly ever-circulating revolving door of cabinet exits and replacements. At the rate that people are coming and going, you can expect a ton of jokes about this pretty ridiculous White House situation we've got going on. And perhaps the best crack yet has surfaced on the internet (bless you, sweet internet). This joke Craigslist ad for a lawyer for Donald Trump is so perfect and definitely the funniest thing I've read today.
You may or may not have heard, but a few short days ago one of President Donald Trump's lawyers, John Dowd, resigned on March 22. Dowd's resignation was a significant one because he was the lead lawyer on Trump's legal team for Special Counsel Robert Mueller's Russia probe. Considering how important and significant (not to mention sensitive) this investigation is, it might be hard to find a replacement that's up for the difficult job of helping Trump navigate this investigation.
And so, an anonymous soul decided to help the president out and write up a good 'ol Craigslist ad with the most incredible job description that I've ever read. Take a look for yourself, because its amazingness speaks for itself:
Seeking a lead attorney to represent client involved in an ongoing Federal investigation... Must be prepared to work with a client who is very forceful and opinionated about his defense and is his own best counsel. Basically your job boils down to keeping him from testifying under oath and hoping the rest comes out in the wash.
Other requirements that the faux job posting listed were, "knowledge of social media, especially Twitter," "knowledge of the adult film industry," and noted that prior experience appearing on Fox News was a plus. Oh, and my personal favorite, "No fatties."
The listing also poked fun at the fact that resignations and firings at the Trump White House happen all too frequently. The poster writes,
Ask about our other openings on our staff and submit your resume to be considered for potential openings in the near future. Perhaps the very near future. Like, hit refresh on your browser now. Now again.
Genius.
I mean, I could not write up a better job listing if I tried. Whoever took the time out of their day to make this pretty elaborate joke — thank you for brightening my day.
In the main body of the job description, this poster explains that basically what the job entails is trying to prevent Trump from interviewing with Mueller's team under oath. The special counsel is currently investigating whether or not Trump's 2016 presidential campaign staff colluded with the Russian government in order to sway the result of that election. Trump has repeatedly stated and tweeted that the investigation is a "WITCH HUNT!" and that there is "NO COLLUSION!"
But funnily enough, according to The New York Times, Trump's legal team reportedly has advised him to not testify before Mueller under oath because they fear he'll get caught lying. In fact, this is allegedly the reason why Dowd wound up resigning. As his lead lawyer in this investigation, I can imagine that Dowd was the most vocal about urging Trump to not testify. According to a Times report, Dowd got frustrated with the president not listening to his advice when he told the press on March 22 that he "would like to" testify before Mueller. Clearly tensions grew too high for Dowd and he decided it's best that he take a backseat and resign.
Knowing all the reported drama behind Dowd's departure, this extra AF Craigslist joke ad is just too perfect. I don't know anyone who'd want to fill in the former lead lawyer's shoes, but maybe there is actually a brave individual out there that's up for the task.