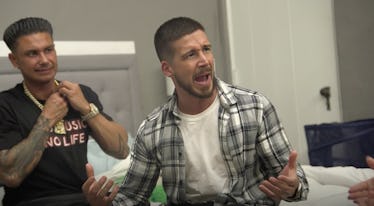 This 'Jersey Shore Family Vacation' Clip Shows Vinny Getting In Major Trouble – EXCLUSIVE
MTV
The relationship drama is in full swing yet again on the new episode of Jersey Shore Family Vacation. In the original run of Jersey Shore, hookups were part of the backdrop of the series — each episode involved the housemates picking up and "smooshing" various randos. It was fine back then because everyone was single, but in Jersey Shore Family Vacation, everyone (except Pauly D) is in a committed relationship. In Thursday night's new episode, Vinny finds himself in hot water. Elite Daily can share an exclusive Jersey Shore Family Vacation clip of Vinny's major drama from the new episode.
The clip shows a massive blow-up in the Jersey Shore Family Vacation house, as the still-drunk housemates accuse Vinny of going too far with a stripper earlier that night. Obviously, this sets Vinny off, seeing as he was in a relationship with his girlfriend Elicea at the time of filming. For the past couple weeks, everyone has watched as Ronnie has scrambled to cover up his shady night with another woman from his girlfriend back home, and that is doubtless in Vinny's mind as he hears his costars say that his actions with a stripper were no appropriate for someone with a girlfriend. Check out Vinny's reaction to the allegations, and how his girlfriend responds when she finds out, in the exclusive clip below:
As the Situation spells out, Vinny is clearly the latest inductee in the IFF: the I'm F—ed Foundation. Throughout this season so far, Ronnie has really been the IFF's sole member, but Vinny gets the crushing news that he is joining Ron after a disastrous phone call with his girlfriend.
Apparently, Vinny had picked up a stripper and was touching her inappropriately at the strip club the housemates went to that night. Vinny did not see anything wrong with the way that he was interacting with the stripper (even though everyone else clearly did), so he decided to call his girlfriend Elicea and be completely honest with her. After Vinny regaled Elicea of his exploits at the strip club, she did not find them to be as harmless as Vinny had imagined they were. Hmm, maybe he should have waited until he sobered up before calling his girlfriend to ask if grinding on a stripper is OK or not.
The clip ends before we get more details on how Elicea will deal will Vinny's little revelation, but you know it is not going to be good. Vinny began dating model Elicea Shyann last year, and they had been going strong up until around the time that Jersey Shore Family Vacation premiered. Ahead of the reunion series, Vinny and Elicea broke up, and Vinny explained to Entertainment Tonight that although they had problems beforehand, filming Family Vacation did but a definite strain on the relationship:
[The show] is the type of thing that could really be the straw that breaks the camel's back. Not because I'm out there doing anything, you don't talk to the person for a month because you don't have a cell phone, you don't have a TV… you don't have communication so, you're like calling them every other day… On the duck phone! You can't even hear them.
When Vinny announced the breakup, he also described a situation that sounds a lot similar to the one in the clip above:
I didn't do anything but, like, being in a position and then, you know, talking on the phone and, you know, explaining like I was in a club until 6 in the morning every night… that gets a little sticky.
It sounds like this phone call between Vinny and Elicea may have played a big part in their breakup. You will have to wait find out the full story of what happens with Vinny when the new episode of Jersey Shore Family Vacation airs tonight at 8:00 p.m. ET on MTV.