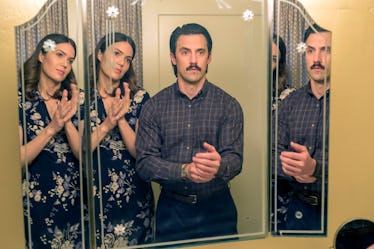 'This Is Us' Season 3 Episode 1 "Isn't For The Faint Of Heart," According To Mandy Moore
NBC
We're not exactly in the home stretch until the return of This Is Us on Sept. 25, but seeing as we've gone without our weekly cry since March, the fact that the Season 3 premiere is vaguely in sight certainly helps. It's safe to say that no matter what personal breakdown or time period the first episodes veers into, it will be a tearjerker, and some of the cast are already promising tears when you watch the beginning of Season 3. Mandy Moore believes that This Is Us Season 3 Episode 1 "isn't for the faint of heart," and that is an endorsement I certainly take seriously.
The script for Episode 1 has already shipped out to the main cast, and the Pearson women have hinted that whatever happens in it made them weepy wrecks. On her Instagram Story, Moore recently shared a selfie of herself on a plane, looking tired and teary-eyed as she wrote:
Reading the first episode of #ThisIsUs season 3, followed by #QueerEye is NOT for the faint of heart.
Yikes. Now that the arc of Jack's death and the subsequent mystery behind the show's greatest heartbreak has been solved, there is a little more ambiguity about which direction Season 3 will take. We know that Jack will appear in flashbacks to his days in the Vietnam War and that conflict with Pearson foster child Deja will likely be explored, but there's also the big question marks connected to the future timeline introduced at the end of Season 2. What members of the family are still alive in the future? Who is the "her" that older Randall brought up to adult Tess?
It looks like whichever immediate plot comes up in Episode 1, it'll definitely make you bring out the tissues. Just don't start streaming Queer Eye afterwards like Moore, aka matriarch Rebecca Pearson, seemed to do.
Crying at the episode is a case of "like mother, like daughter" this time around. Chrissy Metz, who plays Kate, also shared her experience of crying over the script while on a plane. Her own Instagram Story revealed that the flight attendant asked if she was OK after reading it. Metz wasn't quite sure.
Seriously, what is this episode about? If we flash back to how the premiere episode of Season 2 was structured, the general emotional reaction was quite low key until the last two minutes, when the devastating reveal of the Pearsons' charred home appeared onscreen. It wouldn't be surprising if Season 3 takes a similar route and saves a bombshell for its closing scene in the premiere.
Although the episode title was blacked out, one crew member's photo of the Episode 1 script revealed that This Is Us creator Dan Fogelman and co-showrunners Elizabeth Berger and Isaac Aptaker wrote the story. Ken Olin, who directed significant episodes such as the trio of Big Three-focused stories and the Season 2 finale, returns as the director of the Season 3 premiere.
At the show's For Your Consideration event in May, Fogelman couldn't divulge much about the upcoming season, but he did admit that he's proud of the work he's already put into Season 3, saying:
In my mind it's the best season of television that's ever been made. I'm as excited about it as I've been about any of our seasons, it's our biggest and most ambitious.
In May, Moore also told Entertainment Tonight that the cast comes together to start filming the third season in July. Keep your eyes peeled for more Instagram Stories of her turning into old Rebecca! Moore suggested that until filming starts, she and the other actors are just as out of the loop as viewers are, saying:
Dan started telling Chrissy and Sully [Chris Sullivan] and Milo [Ventimiglia] and I a little detail about season three and we are all like, 'What?!' We want to know everything too and we are so excited, but the sit down, sort of walking through what happens throughout the course of this season probably won't happen until a couple of weeks from now when we are closer to shooting.
I've been speculating about Season 3 events for months now, so I'm more than ready for some answers to my questions. Here's to seeing plenty of behind-the-scenes pics of This Is Us very soon!
Season 3 of This Is Us premieres on Tuesday, Sept. 25, at 9 p.m. ET on NBC.