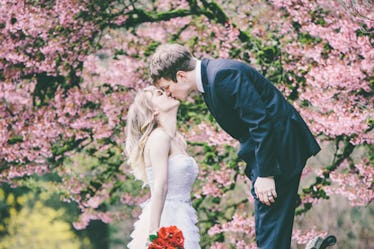 This Is The Best Time Of Year To Get Married, Based On Your Zodiac Sign
After you get engaged, there is one question everyone wants an answer to, and that's, "Have you set a date?" It's a basic question, but in some ways it's the most important one of all, because so much about where and how the wedding will play out is based first and foremost on what time of year it will take place. For instance, if you want an outdoor wedding, the winter is probably not the best time of the year to get married, but it might make for a really cozy ceremony in a chalet. So, before you can even pick the venue, the first thing you need to do is decide what time of year you want to walk down the aisle. Not to mention, what day you want to be celebrating your anniversary for the rest of your lives.
How do you pick the perfect time of year? Well, it has a lot to do with your personality, which affects what you consider to be your dream wedding. That said, it makes sense to consider your astrological sign, which can help you decide if you're more of winter, spring, summer, or fall wedding kind of person. So, before you book that chapel, here's how that all breaks down, based on your zodiac sign.