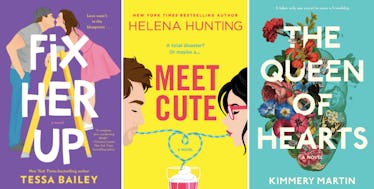 Here's The Romance Novel You Need To Read ASAP, Based On Your Zodiac Sign
Harper Collins/Grand Central Publishing/Penguin Random House
One of the greatest joys of life is curling up with a good book after a long day, and there's nothing more escapist than a romance novel to help you do just that. Stories about love are universally appealing — who doesn't want to believe in happily-ever-after? And when you take your zodiac sign into consideration, choosing what to read next is easier than flipping a page. The best romance novel for your zodiac sign will have you glued to your couch, train, or beach chair, so buckle up and let your loved ones know you won't be budging from your spot for the rest of the day.
These books all deal with the theme of love in very different ways. Some characters are hopeless romantics, while others would like nothing more than to do their own thing. Some have meticulously planned out their futures, only to realize you can't always compartmentalize your life in a neat list. Whether you're already in love, or single and dating, you'll relate to the book that connects most with your zodiac sign, and you may even see parallels to your own love life.
Grab a steaming cup of tea or hot cocoa and get ready to settle in. You'll get sucked into these stories before you even realize what hit you.