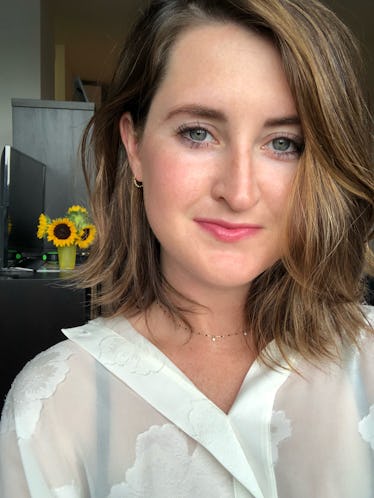 I Basically Made Out With This Beauty Product All Summer Long & It's $5
Daley Quinn
Sometimes, you just can't help who you fall in love with — or in my case, what you fall in love with. And this summer I fell hard for, what's in my opinion, the best lip balm of 2018. Let me start off by saying I did not expect this crush to develop as far as it did.
We started off slow at first, kissing periodically throughout the day whenever my lips would get dry and I needed some hydration. Then I started to notice how a few swipes across my lips would make me feel instantly pretty and more put-together. I felt like I wasn't trying so hard with this love affair, unlike the previous flings I'd had. The infatuation grew as the summer went on, and I couldn't stop spending time with my new love. There were swipes at the beach, swipes out at dinner, and sometimes even swipes at the gym. I brought my crush with me everywhere, and now I can't imagine life without it.
I honestly didn't expect much from ChapStick Total Hydration Moisture + Tint ($4.50; target.com) when it landed on my desk (no offense, ChapStick!). While I love their lip balms, I didn't think that their tinted balms would be anything special, but damn was I wrong. The first shade I tried was the Rose Petal hue, which gave me the most subtle rosy glow to my lips.
When I wore it in front of my boyfriend, he mentioned that something looked different about me, but couldn't pinpoint what that was, exactly. I told him I was wearing a tinted lip balm, and first he said, "what's that?" (🙄) and then, "I can't even tell that you put something on your lips." That right there was when I knew I had found the holy grail of natural-looking makeup.
Fast forward to my summer vacation, where I had a brief fling with the Coral Blush shade while lounging on the beach for 14 days straight. Orange hues always look best on me when I have a slight tan, and this subtle beauty really brought out the bronzed-goddess in me. Plus, the moisturizing benefits of the balm were a lifesaver after multiple days and nights of drinking.
I recently met my latest love, Hello Bordeaux, at the bottom of my purse last week (not sure how it got there, nor how I just now discovered it). A beautiful hot pink shade, Hello Bordeaux makes me feel a little bit edgy without trying too hard. It's the least "natural-looking" of the three shades I've tried, but I still like how it sits on my lips and never looks cakey or too matte and flat (glaring at you, liquid lipsticks).
Underdogs in the world of lip balms, ChapStick Total Hydration Moisture + Tints have taught me two important lessons this summer: natural-looking makeup is still just as transformative as a full face, and I'll never underestimate the power of drugstore makeup, or lip tints, ever again.