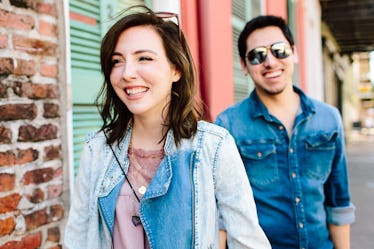 Adjusting To A Relationship After Being Single Can Be Strange, So Here's How To Do It
It may sound like a simple concept to some, but knowing how to be in a relationship doesn't come easily to everyone. Some people jump right into relationships without hesitation, while others are much more comfortable being on their own. Especially if you're used to being single (and loving it), committing to a new relationship with someone can actually be a cause for concern.
If you're afraid of sacrificing your independence or losing your sense of self once you become one half of a couple, you're not alone. Starting a romantic relationship means adjusting to big and small changes from the single life you've grown accustomed to.
If you're looking for tips on how to adjust to being in a relationship after being single for a long time, there are a few important points to keep in mind. I spoke to two women who can relate: one who recently entered a new relationship after two years of being single, and another who was in a similar situation, but ultimately ended things with her partner. Here's what they each have to say about their own experiences, as well as advice on how you can maintain your freedom while in a healthy, loving relationship.