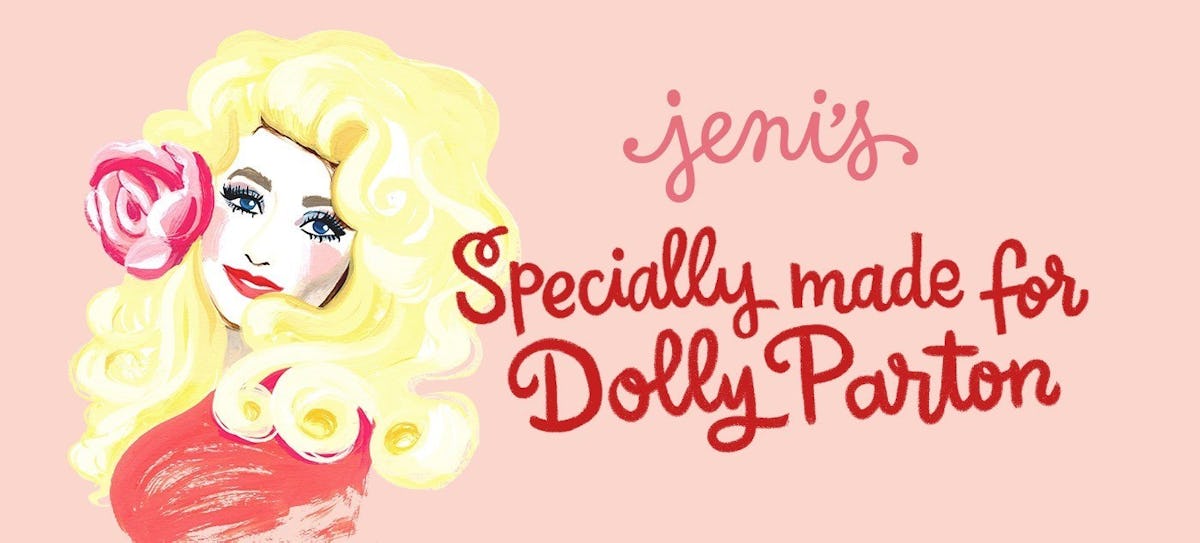 Jeni's Finally Revealed The Dolly Parton Ice Cream Flavor, & It's A Southern Classic
Coming off of its popular collaborations with President Joe Biden and Tyler the Creator, Jeni's is now teaming up with the Queen of Country herself for a highly-anticipated new flavor. On Monday, March 15, fans learned that a Dolly Parton x Jeni's Ice Cream flavor collaboration was officially happening, and just over a week later, the "Jolene" singer spilled the beans about the actual flavor in an Instagram post shared on March 25 — and it's such a classic southern flavor. Here's what to know about Jeni's and Parton's Strawberry Pretzel Pie ice cream, which is a tantalizing combo of sweet and salty deliciousness.
Starting on April 8, Strawberry Pretzel Pie ice cream will be available by the scoop or by the pint at all 35 of Jeni's scoop shops, or you can purchase it online for nationwide delivery starting at noon ET. The run includes just 10,000 pints selling for $12 each, so Jeni's recommends heading to the store before opening or ordering your ice cream online to ensure you get one of these dessert-inspired cartons. Inspired by strawberry pretzel pie, which is a version of a popular Southern dessert called strawberry pretzel salad, Jeni's newest specialty ice cream promises to satisfy both your salty and sweet cravings by layering pretzel streusel with a tangy cream cheese ice cream, and sweet strawberry sauce.
To make the launch even sweeter, proceeds from the limited-edition flavor will benefit a good cause: Dolly's Imagination Library, which is a nonprofit that gives away free books to children from when they're born until they turn five.
As you wait for the release, keep in mind Jeni's has a track record of its flavors selling out just days after their release, and Parton's offering promises to be no different. To allow as many fans to try it as possible, Jeni's is putting a limit of two pints per purchase in-store and online, and you won't be able to order it for delivery or pickup via the Jeni's app.
Set your alarm on April 8, sign up for email updates if you want to stay up-to-date, and make sure to practice the latest guidance from the CDC on social distancing and mask-wearing when purchasing your carton. Judging by the company's past celebrity collaborations, it wouldn't be surprising if the Dolly Parton Jeni's collaboration sells out at all 35 of Jeni's Splendid Ice Creams scoop shops nationwide and online very quickly, so don't sleep on scooping up Strawberry Pretzel Pie.
This article was originally published on