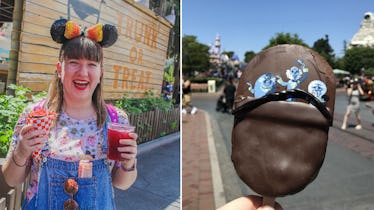 I Went To Disneyland Just For The Food & Rounded Up The Must-Try Treats
I'm beyond blessed to live so close to Disneyland. Any day when I don't have plans can easily become a Disney day at a moment's notice. That's exactly what happened a few weekends ago — I put on my Mickey ears and hit the road to Anaheim. As much as I love riding Big Thunder Mountain and taking selfies with Donald Duck, I decided this trip would solely be dedicated to the food. I even put together this Disneyland food guide for anyone out there who would like to follow in my footsteps.
Everyone knows Disneyland for its epic thrill rides and magical characters walking the grounds, but the snacks are truly my favorite part about visiting. Not only has Disney nailed down its food so everything tastes amazing, but all the treats are incredibly Instagram-worthy. A good foodie knows how important 'Gram-ability is for food; before you take that first bite, you need to snap some pics.
Of course, there are the staples like Mickey-shaped pretzels and churros, but Disney is always coming out with limited-time menus you need to try while you're there as well. If you're hungry and need a little help finding just the right treats, let me be your guide. Just follow along with my recent food journey, and you'll be walking away with a full stomach and lots of good memories.