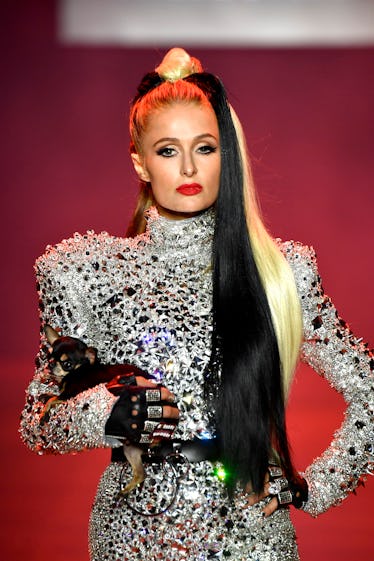 Paris Hilton Walked In A Disney Villain-Inspired Fashion Show & The Pics Are Wicked Good
Frazer Harrison/Getty Images Entertainment/Getty Images
How many times have you passed the Disney store at your mall and looked in to see little girls and boys trying on the costumes of their favorite characters? I've seen way more mini Ariels, Jasmines, Meridas, and Mulans to count. It's about time for a Disney villains clothing collection and if you're with me on this one then consider your wish granted. New York fashion label The Blonds just sent a lineup of creations down their runway at New York Fashion Week inspired by some of Disney's most evil characters and it was glamorous, indulgent, and most of all, fierce. Prepare to feel your inner deviant come out.
The Blonds are known for creating otherworldly garments that err more on the side of fantastical couture costumes (the very best of them) than chic everyday wear, not to mention for putting on some of the most inclusive and diverse runway shows around. I remember unpacking two absolutely dazzling corsets they'd designed for a photo shoot at my first job at a fashion magazine and being struck by their intricacy, beauty, and power to transform their wearer. Phillipe Blond is the designer of the two while David Blond is the creative director, and together they've dressed everyone from Lady Gaga to Beyoncé. The magic that is The Blonds has stuck in my head ever since that day I first handled their corsets so when I heard they'd teamed up with Disney on a truly wicked collection this year I knew it was going to be amazing.
As explained by David Blond in a press release, "What drew us to working with Disney Villains are the complex attributes of the characters themselves. Often misunderstood, Disney Villains are flawed, imposing and mysterious, and we loved the idea of taking these characteristics and translating them in a glamorous way, making them the heroes of our story." If you think about it, taking this approach to a collection makes total sense. Who in Disney is more stunningly statuesque than Maleficent or clothing-obsessed than Cruella de Vil? Whose personality is more demanding than Ursula's and whose accessories more memorable than the Queen of Hearts? Of course the iconic characters would inspire an iconic runway collection—and inspire they did.
Paris Hilton herself made an appearance as Cruella de Vil from 101 Dalmations wearing a structured silver mirrored dress, fishnets, and contrasting thigh-high boots. A real life Chihuahua sat contently in her right arm, while long strands of platinum and black hair were swept over her left shoulder.
Another look portrayed Cruella more literally, taking shape in the form of her actual face.
Dr. Facillier from Princess & The Frog also made an appearance, looking more like a gilded prince than a villain, save for the skull and crossbones on his hat.
Ursula from The Little Mermaid arrived with tentacles made of quivering feathers and was flanked by her slick green sidekicks.
The Evil Queen from Snow White and the Seven Dwarves also made an appearance, complete with her signature crown and cascading black outerwear (I must say The Blonds' unitard is far fairer than the dress the original Queen wore).
The Queen of Hearts from Alice in Wonderland took shape in two ways, both of which were equally lovely....and perfectly chilling. (You can't tell, but the second Queen of Hearts is actually Phillipe Blonde, the label's designer.)
And finally, Sleeping Beauty's Maleficent reigned supreme in all of her twisted glory.
Now imagine how wicked Halloween would be if these types of looks were sold in Disney's stores.