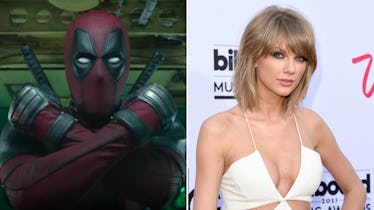 There's A Taylor Swift Easter Egg In 'Deadpool 2' & It's All Kinds Of Amazing
20TH CENTURY FOX/Jason Merritt/Getty Images Entertainment/Getty Images
The only thing I love more than Ryan Reynolds in the movie Deadpool is finding Easter eggs that Ryan Reynolds has hidden within the movie Deadpool. Seriously, the guy can literally do no wrong in my eyes (and neither can his wife, Blake Lively, if I'm being honest. Adopt me?). And now that the sequel is finally here, there's a pretty amazing reference that I think pretty much everyone will love. Yep, Deadpool 2's Easter egg starring Taylor Swift will have you actually laughing out loud.
In case you weren't aware, Tay-Tay is actually really good friends with the Reynolds-Lively family, and, in case that doesn't make you jealous enough, Ryan and Blake's daughter, James, even made an audio appearance on T-Swift's Reputation album. Fans had their theories about who the baby voice on the track "Gorgeous" was, but it was confirmed through the album's booklet, which literally reads, "Baby intro voice by James Reynolds," on the feature's production credits, so there was really no room for speculation anymore. So in case you're wondering *just* how close the couple is to Taylor Swift, the answer is close enough to record their child's voice on an album that's a worldwide phenomenon. That kind of close.
So, let's get to this glorious Easter egg. In Deadpool 2, Reynolds wears a T-shirt that has two familiar faces across the chest: Taylor Swift's two cats. The shirt reads, "Olivia and Meredith, Friends Furrrever," and now I can finally be happy, because this is the absolute best piece of news I've heard in a while.
Take a look at the shirt in all of its glory below:
And for those of you who want to watch the whole damn trailer, have at it. Spoiler alert: It's perfection.
Now, if you're not familiar with Taylor Swift's kitties, a quick sweep of her Instagram will show you her slight obsession with them. Olivia Benson and Meredith Grey (yes, they are named after TV characters) are featured all over Swift's social media:
If I die, I'd really love to be reincarnated as one of Taylor Swift's cats, please and thanks.
But Swift's relationship with Blake and Ryan goes way back — like, all the way back to when Tom Hiddleston and Taylor Swift were a "thing" for about 12 minutes. Good times, good times. But even after Hiddleswift, they all remained close, and now do things like go on double dates together (with Swift's boyfriend, Joe Alwyn) and attend celebrations for each other, like the time when Swift RSVP'd "Yes" to Lively's baby shower when she was pregnant with her second daughter, Inez. I bet Tay gave a really good (read: expensive) gift, too.
Mhm.
But if you want the absolute epitome of friendship, then search no further, because for Halloween in 2016, Swift dressed up as Ryan Reynolds' character, Deadpool, and tagged him on social media, captioning her Instagram photo, "Thanks @vancityreynolds for this costume, you're the BEST deadpool inside contact ever." I mean, if you've got those kinds of connections, might as well use 'em, amirite?
And she actually nails that look, TBH, so maybe Ryan Reynolds should watch out, lest his superhero role gets snatched up by *someone else* before Deadpool 3 gets the green light:
Trust no one. Just sayin'.
In true BFF form, Lively was all about the Deadpool-inspired costume, and commented "#HusbandUpgrade" in the comments:
So you know what? I feel like if anyone doesn't understand how deep the level of their friendship goes, ignore those haters, because Blake, Ryan, and Taylor clearly seem like the three best friends that anybody could have.
And they'll never, ever, ever, ever, ever, leave each other.
Who knows, maybe if we're lucky enough, Deadpool will allow for a real-life Taylor Swift cameo in the movie. I know it's wishful thinking, but let a girl dream, OK?