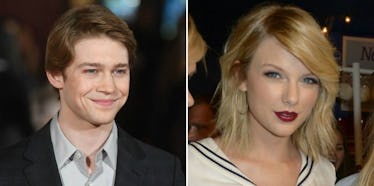 Taylor Swift & Her New BF Went On A Double Date With Blake Lively & Ryan Reynolds
Getty
Sometimes, greatness comes in pairs. However, on very special occasions, greatness comes in four. E! News reported that Taylor Swift and her English boyfriend, Joe Alwyn, went on a double date with Blake Lively and Ryan Reynolds. Yeah, a double date with Taylor Swift, Joe Alwyn, Blake Lively, and Ryan Reynolds is everything.
Can you believe that? I couldn't be more excited about this couple friendship unless I was actually invited. I wasn't. Not that I'm salty about it. Reportedly, Swift and Alwyn spent a few days in Rhode Island and "paid a visit" to Reynolds and Lively. There are no details about what the couples actually did, but I have a few guesses.
1. Had dinner out and then ate some of Lively's famous scratch-made cupcakes (Lively is known to love baking).
2. Recreated scenes from their favorite movies during a rousing game of charades.
3. Talked about how fabulous it is to be them.
4. Held a contest to see who has the best English accent. Alwyn judged (obviously) and Lively won.
Do you have any better guesses of what they did? Didn't think so.
Swift has been basically in hiding for more than a year and is keeping her relationship with Alwyn very under wraps. A source told E!,
She is keeping a very low profile and plans on staying that way as long as she can. She is in a happy place, even though she seems like she is hiding. She is taking care of her body and is really healthy.
If becoming her best self involves double dates with Hollywood royalty, do you, Swifty. The source also reportedly said Swift and her boyfriend are "doing great." They said,
He is different than the other guys she has dated. He is very low-key and just a chill guy overall. They get along great and really got to know each other over the past few months.
That's super sweet. Hopefully Swift starts personally giving details of her love life soon. Until then, I'll keep dreaming about the fantastic double dates her and Alwyn share with their famous friends.