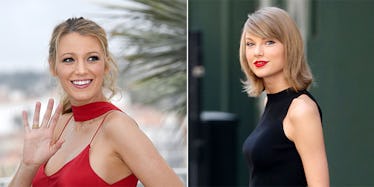 Taylor Swift Attended Blake Lively's Exclusive Baby Shower Over The Weekend
REX/Shutterstock
Brace thyself. Lively-Reynolds spawn pt. 2 is on the horizon.
This isn't exactly news. It's been around four months since the star of "Shallows" and her husband, Deadpool, announced a second bun was cookin' up in her very famous oven.
As is tradition with expecting moms, Lively held a baby shower this past weekend. And I'm sure, outright decadence and the multitude of A-list celebs in attendance aside, it was just like every other baby shower you've ever attended.
According to E! News, the party was held at the Bedford Post Inn in Westchester, New York around 11 am on Saturday.
Let me go on record saying having a destination baby shower -- aka, one not in LA -- is the most LA Hollywood thing of all time.
Taylor Swift allegedly made an appearance at the shower. Just a day earlier, Swift gave a birthday shoutout to Lively on her Instagram.
If you substitute that koala for a human baby, you can kind of imagine what it will look like when the baby finally arrives.
As for what the future has in store? Lively isn't exactly rushing back to the set any time soon.
In a recent interview, she told Marie Claire,
I'm always ambitious about film-making, but I love my personal life so much — and my family so much — that it takes a lot to make me want to leave the house.
Honestly, if this guarantees "Shallows 2: The Shallowening" doesn't happen, I'm cool with that.
Citations: Blake Lively Enjoys Private Baby Shower With Close Friends Including Taylor Swift (E! News)