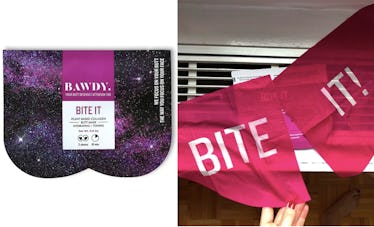 I Tried This Sheet Mask For Butt Cheeks & Now I Can't Put The Experience Behind Me
Bawdy Beauty // Daley Quinn
Just when I was sure nothing else on my body could be wrapped up in a mask — my under eyes, décolleté, and feet have all been covered — a booty sheet mask landed on my desk. Apparently, "butt masking" is a new trend we should all be getting behind (see what I did there?), and my Bawdy Beauty Butt Mask review proves that this fad might not bottom out (had to, sorry!) any time soon. Let me start off by admitting that I'm not the biggest sheet mask fan.
I find them to be very sticky, very cold, and generally uncomfortable, and I usually avoid them if I can. When I got an email asking if I'd like to try out some new sheet masks for my butt, I laughed out loud, but then then thought to myself, "wait, maybe this brand is onto something." The Bawdy Beauty masks ($9 each, bawdybeauty.com) showed up at my doorstep a few days later, and I stripped down to give them a go.
I was sent the Bawdy Beauty Galaxy Kit ($34, bawdybeauty.com), which includes the BITE IT! Hydrating + Toning Mask, the SHAKE IT! Firming + Illuminating Mask, the SLAP IT! Retexturizing + Detoxifying Mask, and the SQUEEZE IT! Brightening + Rejuvenating Mask. I stared at my butt in the mirror for five minutes before deciding that it deserved some hydration and toning, and opened the butt-shaped BITE IT! mask.
The treatment comes with two sheets (one for each cheek), and each mask in the collection comes in a different color with the mask name written across the sheets. When I first slid the masks out of the case, it appeared as if their size was going to be too large for my butt. Apparently, I have a bigger bum than I thought I did, as the two masks fit perfectly on each cheek. Similar to my feelings for facial sheet masks, the BITE IT! mask was cold upon application, and felt slightly slimy during the 10 minutes I had it on for.
It felt a little strange to prance around my apartment half-naked in the middle of the day, especially since there are multiple male construction workers building a new apartment complex directly across the street from mine. Although my windows are filthy, I'm pretty sure at least one of the men spotted me during the treatment, considering I was walking around my apartment the entire time with a large, hot pink sign on my a** that said, "BITE IT!"
Unlike other masks for your body, you can't really sit down and relax while wearing a butt mask. During those 10 minutes, I tried washing my dishes and cleaning up my apartment, but the masks kept falling down a bit every time I moved. Looking back on my experience now, I could have easily laid on my stomach on the carpet (or my yoga mat) and worked on my laptop during the treatment, but I didn't think of it at the time.
I thought this whole butt masking thing was a joke until I removed the masks from my cheeks to reveal a seriously moisturized, dewy derriere. I apply lotion all over my body daily, but my tush had never felt this hydrated before testing the BITE IT! mask. It was impossible to tell if my butt looked more toned (as the packaging claimed it would), but perhaps with multiple uses, the masks' plant-based collagen, aloe leaf juice and sodium hyaluronate could reduce the appearance of lines and wrinkles on my buttocks over time.
Although not the most comfortable and relaxing experience, I was thoroughly impressed with the results after testing the Bawdy Beauty butt mask. I think these masks are perfect for someone who is bothered by butt acne, or those who just want to wake up skin that may not normally see the light of day.
And of course, anyone who wants to take a slightly salacious IG photo.