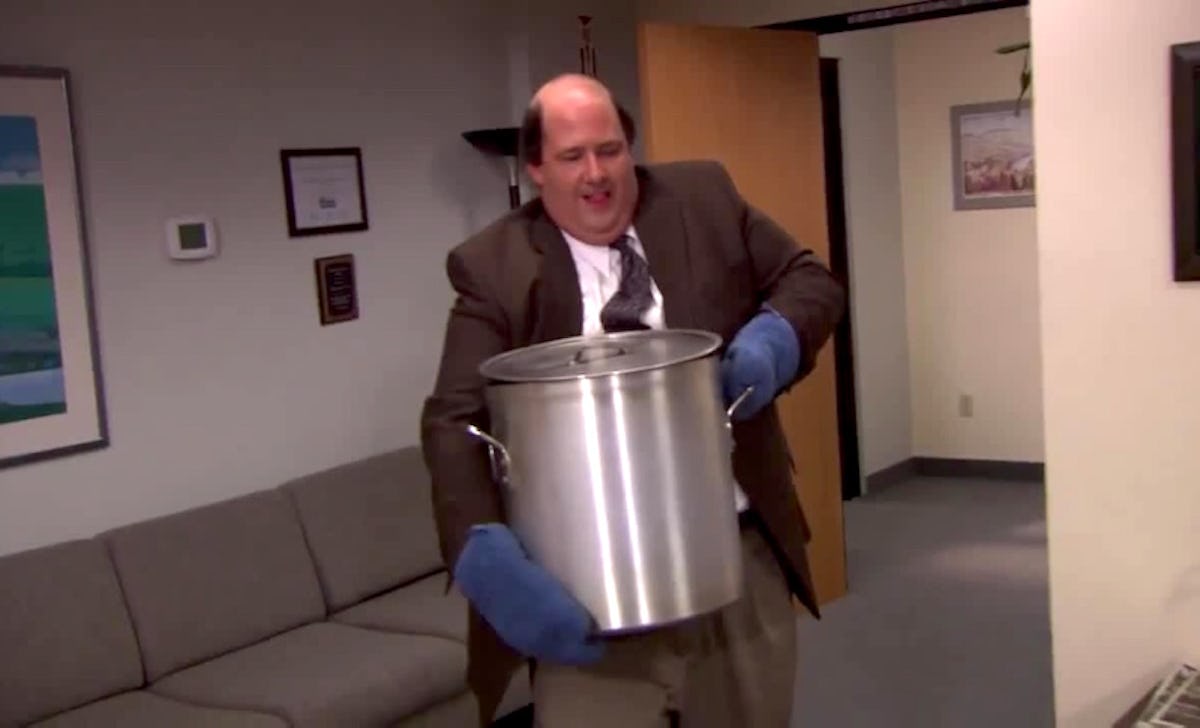 This Baby Kevin From 'The Office' Costume Is Literally The Greatest Thing You'll See Today
NBC
Everyone is a fan of The Office, even some babies, it turns out! With Halloween around the corner, everyone is looking for that perfect costume, and something from The Office is always a good idea since it is so massively popular. While there are so many characters and moments from the sitcom to channel into amazing Halloween costumes, this baby Kevin from The Office costume absolutely takes the cake... or, the chili.
The cast of The Office cannot get enough of an adorable and hilarious baby costume that has gone viral on Instagram. The outfit, generically dubbed "Paper company accountant spilling a pot of chili costume for baby," features a baby in a tiny, brown suit, a bald cap, and — the pièce de résistance — an overturned pot with chili spilling out of it. As all The Office fans know, the costume is a reference to one of the most memorable moments in the workplace sitcom's history. In the cold open for "Casual Friday," one of the final episodes of Season 5, the dim-witted but lovable accountant Kevin Malone brings in a massive pot of his famous chili for his coworkers, only to trip on his way in and fall into all the spilled chili.
Jenna Fischer first noticed the hilarious baby costume and shared it on her Instagram account.
That got everyone else from The Office showing their love as well. Angela Kinsey (who played Angela Martin on the show) commented her love for the costume idea, and Brian Baumgartner (who played Kevin Malone) also shared the photo, calling it every infant's dream costume.
But before you open Amazon and try to find and buy this hilarious The Office costume for every single baby you know, I should let you know that it sadly does not exist. The Amazon page is actually a PhotoShopped image created by branding expert Adam Padilla for his meme-filled Instagram account @adam.the.creator. Since the beginning of October, Padilla has been creating and posting several hilarious fake baby costumes, ranging from rapper Tekashi69 to Elon Musk.
So no, sadly you cannot purchase a Kevin Malone costume for your baby at this time, but hey, maybe all this interest in the fake costume picture will inspire somebody to start manufacturing them. You would probably still have to make your own chili to go with the outfit, though, I'm guessing.
And honestly, if you are really obsessed with this costume idea then it would not be too difficult to put together on your own... even if you aren't a baby. You really only need a brown suit and a bald cap with brown hair on the sides, which is not too hard to find. The only hassle will be having to lug around a gigantic pot of chili all night long on Halloween. And if you were going for true performance value, then you would also have to spill that chili and roll around in it, which probably is not as fun to do as it is to watch. But hey — it would be super memorable!