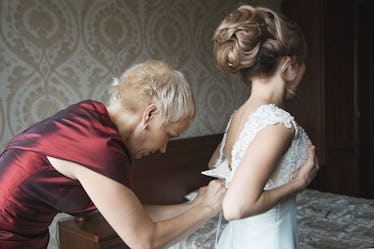 6 Moms Share Helpful Advice For Planning A Wedding & They're So Wise
Is there anyone in the world who gives better advice than a mom? I think not. I've turned to my mother to get advice on everything from makeup, to breakups, to what I should eat for dinner, to life-changing decisions, and she has yet to lead me astray. So naturally, when I needed advice for how to plan a wedding, I turned to my mom — who better to ask than someone who has gained over 30 years of wisdom since her own wedding day?
My mom's advice: Really consider which expenses are worth it and which are not. When making your guest list, decide which friends you'd like to still be in your life 10 years down the road. Be discerning with plus-ones. Don't pick ugly bridesmaid dresses. Enjoy the process, because it goes by fast. The only advice I didn't listen to was her suggestion not to use my dog as a ring bearer. I did anyway, and he was a star.
Of course, she isn't the only mom with wise words for brides-to-be. I combed through the AskReddit wedding planning thread for the best advice I could find, and here's some of the words of wisdom I wish I'd heard before my own wedding: