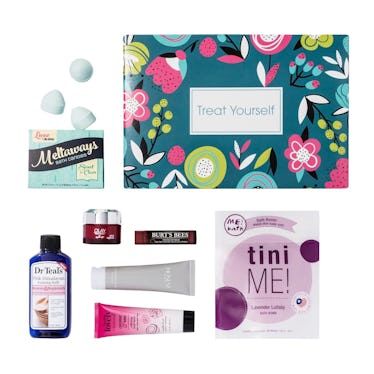 Target's $7 Mother's Day Beauty Box Will Make Mom Think You're An Actual Genius
Target
It's about time for the annual struggle: what to get mom for mother's day (which is this Sunday, May 12). Over the years, I've gotten my mom flowers, gift cards, and jewelry. I've taken her to dinner, and DIYed super-personal gifts. After 28 years of gifts, I ran out of ideas (and money). Luckily, Target has curated a handful of beauty boxes that are just as pretty as they are affordable. And the best part is it's so reasonably priced, you can even afford to pick up your own Target beauty box.
If your mom is anything like mine, she hates wasting money on beauty products that don't work. However, like every other woman she also can't resist trying new products that promise shiny hair or younger-looking skin. Instead of letting your mom potentially throw away her hard-earned cash on an item that might not get the job done, gift her an entire box of sample-sized beauty buys. That way, she can test out a slew of new items, which not only takes the guess work out of her next shopping trip, it saves her so much money by allowing her to try before she buys full size. That's the gift that keeps on giving, no?
Speaking of saving money, if you don't have a ton of cash to spend this mother's day (sorry, mom!), you can still treat her like the queen that she is. For only $7, you can shower her with a selection of beauty buys that best suit her personality. Here are a few beauty boxes you can gift your mom on her big day.
For the mom in need of some serious R&R
This is every mom TBH, but if your mom is into treating herself to a night in, this is the box for her. Complete with everything she needs for an epic night in, the Treat Yourself Box ($7, Target), also pairs well with a glass of her favorite wine.
Box includes: Burt's Bees Tinted Lip Balm in Red Dahlia ($5, Target), aME! Bath Bath Bomb($10, Target), Dr Teals Pink Himalayan Foaming Bath ($5, Target), Bodycology Free & Lovely Coconut & Rose Body Butter ($5, Target), a trial-size Honest Beauty Refreshingly Clean Gel Cleanser ($18, Target), a trial-size Olay Regenerist Whip Facial Moisturizer ($29, Target), and a Luxe by Mr. Bubble Bath Meltaway ($9, Target).
For the mom who is obsessed with masking
Give your mom the gift of amazing skin with this selection of masks. The All The Masks Beauty Box ($7, Target) is packed with everything she needs to reset her skin and give her back that pregnancy glow (without the morning sickness and all the cravings).
Box includes: Neutrogena Hydro Boost Hydrating Gel Mask ($3, Target), the Yes To Carrots and Kale Single Use Paper Mask ($3, Target), the Masque Bar and Luminizing Charcoal Peel Off Mask ($4, Target), the St. Ives Soothing Oatmeal Sheet Mask ($3, Target), and the Que Bella Multi Mask Trio ($3, Target).
For the mom who likes to look her best
My mom is the type of woman who never leaves the house without makeup and her hair in place. If your mom and mine have that in common, the Wakeup and Makeup Box ($7, Target) includes everything she needs to look (and smell) her best every day.
Box includes: Sonia Kashuk Brush Cleaning Wipes ($9, Target), a Covergirl Peacock Flare Mascara ($8, Target), Honesty Beauty Makeup Remover Wipes ($3, Target), an ELF Beautifully Bare Blending Brush ($6, Target), an ELF Beautifully Bare Face Palette ($8, Target),Dove Dry Spray Invisible Sheer Fresh ($6, Target), and Dove Go Fresh Coconut Dry Shampoo($5, Target).
Your mom does a lot for you, so don't forget to show her how much you appreciate her. You can click here for even more mom-friendly boxes.
My mom lives a few miles away, so I'm showing up at her front door with our mommy-and-me beauty boxes, some snacks and a handful of chick flicks, beacuse girl time beats a box of chocolates any day.