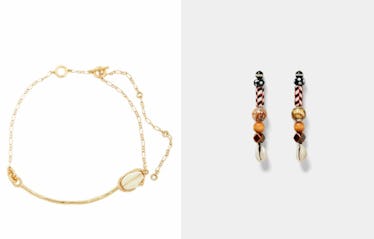 Puka Shell Necklaces Are Hot For Summer, So Dust Off Your 8th Grade Fave & Dive In
Matches Fashion / Zara
Remember in the early aughts when it was SO cool to come back from your tropical vacation with plastic beads in your hair and a shell choker around your neck? Get ready for some serious sartorial nostalgia because 2018 jewelry trends include puka and cowrie shell everything so if you haven't thrown your strand of aquatic charms away you might want to dig it out from the bottom of your closet.
If you looked back at my middle school photos you'd notice I'm wearing a certain necklace in about 80 percent of them. Yes, it was a cowrie necklace, but instead of just shells and string it also featured pink and black beads that sat in between each shell. COOL! I wore it during the phase when I had also strung Care Bear laces into my pink and black Vans and when jelly bracelets were twisted around my wrists. Avril Lavigne, thanks for the excellent style inspiration.
Puka and cowrie necklaces naturally became decidedly uncool eventually and I therefore tossed my own into our Goodwill bucket but now, over a decade later, I wish I hadn't. Influencers with the likes of Sophia Roe have been wearing them as of late, while Prada even championed them on their spring 2018 men's runway. Shells are back but they're cooler than ever before.
If you're feeling this new trend wave then grab your board and hop on it by shopping the best puka and cowrie jewelry offerings below.
All Gold Everything
If you're not into actual shell, why not channel one in all gold form? This dainty chain bracelet features a puka shell charm, rendering it the perfect balance between sophisticated and laid-back.
Sound of the Sea
Did you ever hold up a conch shell toy our ear as a kid in order to hear the ocean? This is like the grown-up version of that; instead of listening to shell with your ears, you adorn your ears with shells.
Keep It Simple
Sometimes classic is better. This cowrie shell necklace will likely remind you of your Abercrombie & Fitch days, which maybe isn't a bad thing? Pop those polo shirt collars!
Deep Blue Sea
Turquoise is one of my favorite stones, so you can imagine that this bracelet speaks to me. It gives off major mermaid vibes and will add the perfect pop of blue to any summer look.
Mix Master
If colorful statement jewelry is more your thing you'll love these brightly beaded earrings, which each drop down to finish with a single shell.
Treasure Chest
This gold-plated choker honestly made my jaw drop and my wallet open the second I saw it. It's unique, dainty, and makes a majorly chic statement. I'd wear this for a super fancy night out or a casual brunch date, alike.
Beach Party
If you're headed to a beach vacation, this colorful anklet needs to be added to your suitcase stat. It's playful and a bit kitschy and has double the throwback appeal. Anklets, too, experienced their peak in the mid aughts.
Hook, Line, and Sinker
Another elegant way to do shells, these earrings feature a simple drop design and streamlined gold hardware.
Charmed, And You?
If you don't want a shell (or ten) to be the focal point of your accessorizing, try this chain necklace on for size. It features a single cowrie shell charm that's balanced out by others made from beads and metal. Bohemian cool at its best.
So Precious
Real shells laced with real gold? Simply beautiful. Layer this with a few other dainty gold necklaces for the ultimate cool girl accessories look.