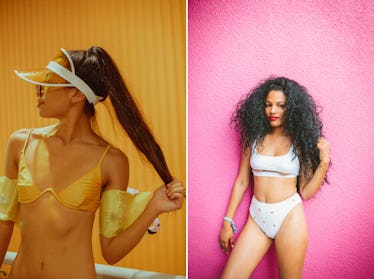 THIS Is How To Wear Your Swimsuit To A Festival & Look Like A Mermaid Goddess
Gina Joy/ Michael Drummond
Despite summer having not even started yet, we're already well into music festival season. Coachella almost seems like a distant dream, Bonnaroo just wrapped up, and Firefly kicked off today. You'd therefore think that all the best 2018 festival trends would have already hit the scene many times over but thanks to Splash House, which took place in sunny California last weekend, there's a new standard of cool when it comes to looks to rock out in.
If you haven't heard of Splash House it's basically a mixture of hot music, rainbow floaties, and infinite sun rays. It takes place poolside at some of Palm Springs' most iconic hotels and also features an epic after party at the Palm Springs Air Museum. It's been described as an amalgamation of the Vegas pool parties you'd actually want to go to but about 10,000 times more fun and with a way chiller crowd. (Sorry, fist-pumping bros.) Take a look at this year's lineup, which included Duke Dumont, What So Not, Chet Porter, and Yolanda Be Cool, and it's easy to see why.
Just like in Vegas, pool party attire applies. But Splash House attendees take swimwear to a whole new level with the ways that they accessorize and style theirs. Take one look at the street style photos from the festival below and you'll see what I mean. The thing about swimwear is that it's elastically comfy, comes in prismatic prints, and boasts crazy silhouettes that regular bras, crop tops, and bottoms can't conform to because of the materials they're cut from. In other words, swimwear is every festival style groupie's dream—and should absolutely make its way into your next summer concert look.
Below are five ways to wear your swimsuit to a music festival, as inspired by the most stylish of Splash House goers.
All-In-One
Bodysuits and high waisted shorts tend to constitute my typical festival look but sometimes denim and leotards don't mix super comfortably, especially if it's a cool 95 degrees outside. Wriggling out of both layers can also prove difficult when attempting to do so in a two-foot by two-foot porta potty—we've all been there. Why not simply say sayonara to your shorts and step out in a one-piece swimsuit? Paired with bohemian gladiator sandals and a pair of cool sunnies it'll look like like beach babe style 2.0. If the look is a little too cheeky for you, try tying a breezy sarong around the waist.
'90s Redux
Remember when having your logo-trimmed underwear sticking out above the waistline of your jeans was so, so cool in the '90s? Thanks to the reemergence of logomania, that trend is back with a bang. Why not give it your own, more water-friendly twist by replacing your Calvin Kleins with high-waisted bikini bottoms? If you prefer one-piece swimsuits, fear not: thanks to a new style that features an oversized triangular cutout on the stomach (see above), you can give the illusion of wearing a bikini. Party in the front, business in the back.
Cape Town
This is my favorite styling trick of the bunch, probably partly because I am obsessed with Harry Potter. Try pairing your bikini or one-piece with a long vest, duster coat, or, if you're me, cape. The more texture, color, and embellishment, the better—this is a music festival, after all. The layer will help you feel slightly less exposed and will allow you to jazz up your outfit as you see fit. Don't forget your broom on your way out.
All About That Base...Layer
The naked dress has become somewhat of a sartorial phenomenon ever since Rihanna wore an especially sparkly and see-through one to the CFDA Awards in 2014. Take a page from the Style Queen's book and find a sheer dress of your own to layer over your swimwear. It'll result in a subtly sexy look that can transition from party to after party seamlessly.
Sporty Spice
If you want to live your best life in just a bikini, try pairing it with crisp white sneakers for a super sporty look. Flash lenses and glowy skin pair swimmingly with the look.