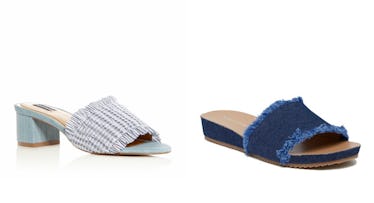 Denim Sandals Are The Most Unexpected Trend Of Summer 2018 & I'm Not Mad At Them
Bloomingdale's/Nordstrom Rack
When it comes to 2018 denim trends, they truly run that gamut. From dark wash co-ords with exposed stitching to high-waisted silhouettes, and kick flares, embellished jeans, and more, the amount of ways that our favorite blue textile has been reimagined are as countless as they are cool. Seeing as denim is basically the fabric of America and has become a staple within countries around the world, it's easy to see why it's been shaped into endless sartorial offerings. But there's one denim trend that I didn't see coming.
Denim sandals, if you can believe it, are having a moment, thanks to brands the likes of Gianvito Rossi, Kate Spade New York, and Alexa Chung, which have all released their own take on the style. From heels to mules to slides and everything in between, the offerings are incredibly varied — the brands have made sure that there's something for everyone. And why not? Seeing as denim is basically a neutral at this point (show me a color you can't pair it with, I dare you!), it makes sense that it would be made into shoes. They'll go with everything while still adding some unexpected shock factor to any look. What's more, they're a bit of a 2000s throwback and everyone loves nostalgia when it comes to fashion.
If you're game to try the re-emerged trend, take a look at the offerings below. Buy a pair and throw it on with you other favorite denim pieces — you'll take Canadian tuxedos to a whole new level.
Twisted Sole
These dark wash sandals are part edgy, part beachy thanks to their espadrille-like aesthetic and frayed edges. I'd pair these with denim shorts, a black shirt, and a red lip for the perfect brunch look. They get bonus points for their white exposed stitching.
Low Rider
These heeled mules are perfect for the girl who likes denim on her feet but not in full-on form. The sole and heel are a light wash denim, while the strap is made from a gathered white and blue fabric. Going to Cape Cod or the Hamptons? These are perfect for you. Pair them with a breezy summer dress and a coral lip for a super fresh look.
Three's Company
This sandal is a bit of a triple threat. It features a a woven design on the footbed, a platform silhouette, and three different shades of denim, meaning it'll go with any jeans or jean skirts you already have in your closet. What's more, it buckles around the heel, meaning it won't easily slide off.
The Fray
These are my favorite sandals of the bunch, which clues you in to my minimal and streamlined style. I love the deep shade of blue (I prefer dark wash denim) and simple slip-on silhouette, while the frayed detail adds a touch of design intrigue. I'd wear these with a simple spaghetti strap mini dress and black leather crossbody bag for a chill night out with friends.
Electric Slides
OK, so these aren't technically sandals, but they're too good to leave out! From their metal grommet detailing to their frayed diamond detailing to their chic silhouette, they're some standout slides. Whether you pair them with breezy linen pants and a top or let them peek out from under a patterned maxi skirt, they're sure to turn heads.
Artist Chic
Slides, but with a totally creative twist! These sandals feature white paint splatter all over, which honestly makes them even more versatile. The white hue brings in a neutral freshness and allows the sandals to not be so color blocky and monotone. True masterpieces!