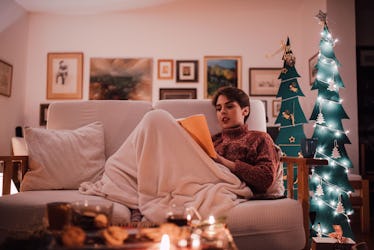 7 Women Reveal The Real Reason They Bailed On Their Dates & I Can Totally Relate
Boris Jovanovic, Stocksy
You've been at school or work all day. Your roommates have the newest season of The Great British Bake Off cued up. A glass of wine is poured for you. It's the perfect night in. But you told someone you've been talking to that you'd meet them for a drink tonight. Do you go? Whether you've overcommitted to a date you never really wanted to go on or suddenly came down with a case of "I don't want to put real pants on," there are lots of reasons for standing up your date.
Of course, if you're not feeling seeing someone, sending even a Karen from Mean Girls-level, "I can't go out...I'm sick" text can be a more considerate way to diffuse the situation. But sometimes, life happens and for whatever reason, you may need to bail on your date at the last minute, with no notice. Maybe you spilled coffee on yourself on the subway. Or maybe you found out your crush is still dating their SoulCycle instructor girlfriend, even though they asked you out (@ me, my junior year of college).
I spoke with seven women about why they stood up their dates and their stories are #relatable AF.