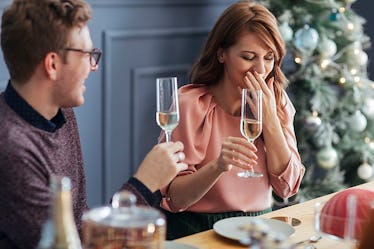 Twitter Lists #ThingsNotToSayAtAHolidayParty & It'll Get You In The Christmas Spirit
They say it's the most wonderful time of the year, but that statement is highly questionable. When nagging aunts butt into your love life over Christmas dinner, your childhood bedroom begins to close in on you, and another Mariah Carey karaoke session seems unfathomable, you have to pray Santa fills your stocking with some boozy treats. If you're feeling a tad bit overwhelmed with the festivities, fear not; #ThingsNotToSayAtAHolidayParty tweets are so funny even the Grinches of the bunch can't help but chuckle.
You might not care about the presents underneath the Christmas tree, but there is one thing you'll definitely need to get through the season: a good belly laugh. Of course, the internet is here to deliver. There's nothing Twitter users appreciate more than a clever hashtag, and with that in mind, many began to provide their own commentary for the hashtag #ThingsNotToSayAtAHolidayParty on Nov. 26. People definitely were in a creative mood on Sunday morning, so perhaps those extra cups of coffee really gave everyone the jolt they needed.
For those in need of some levity — and for those who would rather not look at the #RoastTrumpIn4Words firestorm — shift gears to the holidays. Let's take a gander at some of the holly jolly things that should be off-limits at your annual Christmas or Hanukkah get-together.
This Christmas dinner is... something.
Please, no political discussions at the dinner table.
No thanks, Aunt Susan, I'll pass on dessert.
What do you mean we're all out of eggnog?
There is a no-work policy in place this holiday season.
Don't even think about spoiling the day for the little ones, you Scrooge.
You remember what happened with this Amazon holiday commercial, don't you?
At least try to look like you're interested in the conversation.
Don't be a heartbreaker — not cool.
When someone is bold enough to deny guests a Nightmare Before Christmas binge.
Hope everyone in the fam got the flu shot.
It's probably best not to make assumptions about your cousins.
Let's try to get along.
Definitely don't count on this.
There is definitely a lot to take in when your family heads home, and you can most certainly count on an awkward moment or two. Would it really be the holidays without at least one embarrassing mishap?
Even if #ThingsNotToSayAtAHolidayParty still has you feeling kind of anxious about going home for the holidays, there are plenty of ways to feel happier during this season, according to experts. Winter blues, be gone!
First thing's first, stop putting all your attention on something negative. Now's the time of year to focus on all the things you have been blessed with, so take a look at all of the good in your life and don't dwell on the areas that need improvement. That's life — there will always be something to tweak, but for now, enjoy the positives. Make a gratitude list in addition to a wish list and you'll start to see a change in your mood.
If you really want to get in on the holiday cheer, obviously you need man's best friend by your side. Not only can you and your friends enjoy an ugly sweater party, but Fido can get in on the action too. If that doesn't scream "Happy Holidays," I'm not sure what does. (And, for those of you who are wondering, yes, that dog sweater does say "Merry Christmas ya filthy animal.")
That time of year has once again arrived, folks, so if you can't beat 'em, join 'em. Happy holidays.
Check out the entire Gen Why series and other videos on Facebook and the Bustle app across Apple TV, Roku, and Amazon Fire TV.