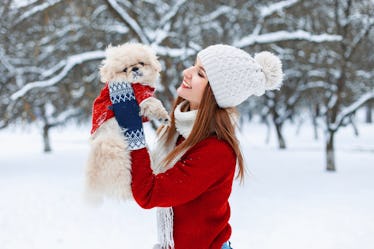 5 Matching Christmas Sweaters For Dogs & Owners That Are Pawfect For The Holidays
As the weather outside gets colder, our need for the perfect Christmas sweater gets stronger. I mean, there truly is nothing better than a cozy holiday sweater to not only warm your body, but also your heart. As you search for the perfect design, you also want to be on the lookout for a matching sweater for your dog. For real though, what else are you going to wear for your holiday Christmas card photos together? You want to show off how you're a perfectly cozy family with matching holiday spirit. Though finding the right sweater can be ruff, don't have a doggone hard time shopping, because we've found the perfect matching Christmas sweaters for dogs and owners.
You and your pup will totally sleigh the season wearing any of these festive cardigans. When you go for your walks around the neighborhood, all eyes will be on you and your furry friend. There is no doubt with any of these five matching sweaters that you'll be the best dressed fam in town. There's also no way Santa could leave you off the Nice List when you're both dashing and dapper. The cuteness is too much to handle, so have a happy howl-iday in your matching Christmas sweaters.