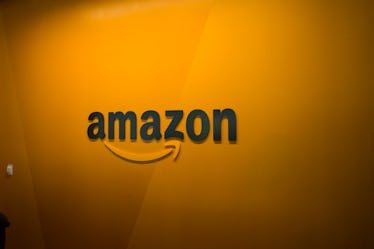 This Amazon Commercial Low-Key Ruins Christmas For Santa Fans Everywhere
David Ryder/Getty Images News/Getty Images
You cannot have a holly, jolly Christmas without Saint Nick. Apparently, there's one company that didn't seem to get this memo. Amazon's 2017 holiday commercial might upset Santa fans who aren't ready to part ways with the big man's magical Christmas Eve journey just yet.
The "give a little love theme" of the commercial is sweet and fitting for this time of year... but when Dad is carrying a bunch of boxes while trying to dodge the little ones, it's a bit worrisome. What if the kids see this? What will they make out of it?
The 30-second clip said, "At Amazon, we've got toys and games by the sack load this Christmas with free delivery on eligible items." The footage then zooms in on popular items for little ones, such as a Fur Real Tiger and a Nintendo Switch (both of which I might add to my list, though I'm 27). This is all fine and dandy, but you want to know who else has toys and games by the sack load? Santa.
Though the UK clip was sweet and sentimental, it experienced plenty of backlash from people who believed it might suggest that Santa and mom and dad are one in the same — something most parents try to put off for as long as humanly possible.
Have a look at the Amazon holiday ad and decide for yourself.
Naturally, people took a moment to express their views via Twitter about the holiday mayhem.
Some people are siding with Amazon on this one.
To backtrack, Amazon released a statement following the frenzy surrounding the commercial. You have to put upset parents at ease somehow. It read,
Father Christmas and his elves are no doubt working around the clock to get presents to girls and boys around the world. These are just a few extra to give a little love from parents.
No matter where you stand on the issue, the holidays aren't about presents. Let's not forget the important things such as family, friends, and best of all: food. They say it's the most wonderful time of the year, and when you think about all of the fun your tastebuds will experience, you'll have to agree.
Beginning Nov. 20, Dunkin' Donuts will release its holiday-flavored doughnuts, and the best part about them is that they pay homage to your favorite Christmas cookies. A doughnut and a cookie in one? Talk about a Christmas miracle.
The Frosted Sugar Cookie Donut, Snowflake Sprinkle Donut, and Gingerbread Cookie Donut are about to make their debut, so grab a cup of hot chocolate and prepare to munch. Certainly there is no better way to kick off the season than with sweets. One bite of these bad boys and you'll forget all about that Amazon commercial drama.
If you need something to wash down your dessert, head to Starbucks next. Think of it as your own Christmas Eve sleigh ride, except you're on a food quest and the presents are for yourself. On Nov. 1, Starbucks unveiled its new cups for the 2017 season, and they're guaranteed to fill you with the warm and fuzzies. "This year's cup is intentionally designed to encourage our customers to add their own color and illustrations," Leanne Fremar, executive creative director for Starbucks, said in a statement. "We love the idea of everyone making this year's cup their own."
There was one main reason for this design. "I liked the idea of hands as the centering point, a symbol of connection, love and giving joy, whether it's wrapping presents or decorating a tree, writing cards, or enjoying a mug of cocoa," Kay said in a statement. Isn't it that the perfect way to enjoy the Chestnut Praline Latte, Caramel Brulée Latte, and Peppermint Mocha?
Happy Holidays, folks. If your tiny tot catches a glimpse of that commercial, just give him or her some festive treats and they won't even know it's on TV.
Check out the entire Gen Why series and other videos on Facebook and the Bustle app across Apple TV, Roku, and Amazon Fire TV.