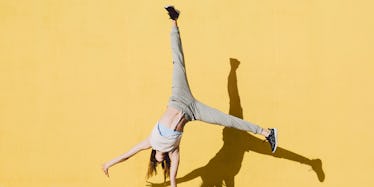 These Are The "Mistakes" You Make During A Workout, According To Your Zodiac Sign
Learning about the positive characteristics of your zodiac sign can help you thrive in so many different ways, from your love life to your fitness routine, and everything in between. But let's be real: Astrology can most definitely reveal where you're flawed, as well, which can be incredibly helpful when it comes to correcting minor mistakes in life. When it comes to sweating it out, the things you're doing wrong at the gym, or even in your home workouts, can totally be determined by your zodiac sign, believe it or not.
For the record, these "mistakes" aren't the end of the world, and they don't, in any way, discount all of your hard work, #BootyGains, or sweaty satisfaction you get from your workout routine.
But we all have areas where we could improve, and the weaknesses revealed by your astrological sign might just tie into your pre-workout, post-workout, and even mid-workout blunders.
Getting a glimpse into those not-so-great habits you may have formed over time will help you take your fitness game to the next level — or, you know, help you stop annoying all of your fellow gym-goers.
Remember to take these tips with a grain of salt, and maybe even use the information below to poke some fun at yourself (or your Scorpio BFF, because she seriously needs to calm down on the ab mat).
Here are a few fitness "mistakes" you might be making, according to your zodiac sign. And hey, if you want a little pick-me-up after reading this, check out all the positive things the stars say you're doing during your sweat sesh.