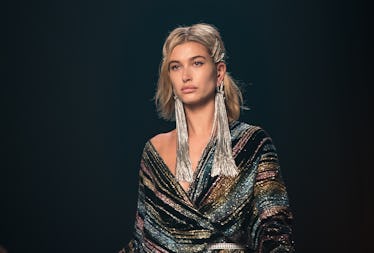 Winter Jewelry Trends Are All About The Glittery & Bold, So Get Ready To Shine
Noam Galai/Getty Images Entertainment/Getty Images
It's officially the season for all things sparkly, dramatic, and statement-making, so if you're on the hunt for some festive attire, know that winter 2018 jewelry trends have got you covered on all fronts. This year, designers strayed from the delicate and subtle when it came to accessories, instead opting for styles that are in-your-face unmissable. In short, the bigger and shinier, the better. No need to find a blindingly glittery dress for New Year's Eve or a beaded top for your fancy holiday party — partake in any of the below jewelry trends and your outfit will stun, no matter the clothing.
From chandelier earrings so long and twinkly that they look like miniature milky ways to chain necklaces so bulky they bring a literal meaning to industrial chic, winter's coolest jewelry is not for the faint of heart or style. Bedazzled body chains a la 2000s and chunky old school bangles are also on the roster, so get excited about some throwback styles too. See how each of the trends manifested on the fall runways below and shop a few styles for each. Remember, 'tis the season to treat yourself, so pick out your favorite piece and thing of it as an early holiday present.
Chain Reaction
Designers the likes of Miu Miu, Balenciaga, and Chloe adorned their models with necklaces that more closely resembled something you might see at a construction site than a high-fashion store. Thick, heavy-grade chain were looped in all lengths, with some featuring pendants and others holding court sans adornment. They're a cool way to add an edge to any look.
This option incorporates a cool tortoise detail and features gold links of all sizes. It's less edgy, more hodgepodge, and totally cool.
Like the way better version of that paperclip necklace you used to make in grade school.
Crystal Falls
Designers like Zadig & Voltaire and Tom Ford brought the chandelier earrings to glamorous new heights (or should I say, lengths) with styles that extended way past the shoulder or were so blinged out they blinded. These earrings have New Year's Eve written all over them — you won't even need a disco ball if you rock them.
If you're going for old Hollywood glam, consider these elegant crystal earrings.
But if party-ready glitz is more your speed, these shoulder-grazing star earrings are for you.
Blunt Bangles
Bangles were all the rage when I was in high school, so much so that I'm pretty sure I wore one to homecoming and prom every year. While I've avoided the trend since, it might be time for me to channel my inner 16-year-old self. Alexander McQueen, Marni, and Balenciaga sent stacks of arm candy down their runways and I've gotta admit, it's an easy way to bring some drama.
If crystal encrusted bracelets aren't your style, try out this solid gold option. It's rippled design gives it a cooler edge than a plain, smooth bangle.
For the boho babes, there's this turquoise cuff. Stack it with other beaded bracelets or let it serve as the sole accessory star.
For styles that are a bit more sleek and favor fresh, bright hues, this resin bracelet will add a subtle touch.
Tip The Scale
Asymmetrical earrings are back and cooler than ever. Whether you opt for a pair that simply doesn't match or you forgo a single entire earring all together, the off-balanced trend will give your look a cool and unique twist. Chanel, Jacquemus, Roksanda, and Dries Van Noten would agree.
The subtle way to do asymmetrical earrings! It might take a minute for people to realize they don't match but once they do, your accessories will become instantly cooler.
These almost look like colorful little art mobiles, no?
Body Rock
Your inner '90s and 2000s nerd will undoubtedly get excited about the resurgence of the body chain. Gucci did it in crystal-laden form while Jacquemus went decidedly more subtle. Which style do you prefer?
Literally no other accessories needed.
And then there's this subtle touch of shine.