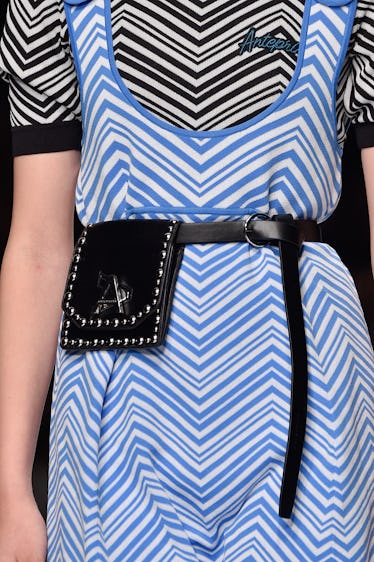 These Super Trendy Bags Will Carry You Through Winter In Style
Pietro D'Aprano/Getty Images Entertainment/Getty Images
During colder months when bulky coats tend to cover your clothes 90 percent of the time, accessories matter more than usual in terms of defining your style. Which is why the fact that winter 2018 bag trends are unique and cool and decidedly stylish is such a relief, because even if you pair said bulky coat with a pair of your favorite Ugg boots, you'll still rule the snowy sidewalk — that's the power of a good carryall.
Chances are you've got your go-to bag that will stand the test of time and trends and literally remain by your side season after season. Every girl needs her trusted sidekick —mine happens to be a style by ALC featuring a long and minimalistic rectangular shape, gold hardware, and a black snakeskin finish. But it's always fun to indulge in a new accessory with the coming of each season depending on what brilliant new design ideas have come into play and, subsequently, expand your bag collection.
If there ever was a time to invest in a new bag it would be now. Thanks to edgy hardware details, new takes on old classics, and wild finishes, this season's options are more covetable than ever. Below, five of the best trends to shop.
Chain Reaction
If you think of a bag with a chain handle, Chanel's classic baguette style likely comes to mind. But the new class of metal-clad carry-alls offers a far more diverse range of styles thanks to brands like Balenciaga, Tom Ford, Alexander Wang, and Fendi, which each executed its own unique take on the classic. Some feature chain handles wrapped in fabric, while others' links are encrusted with crystals. They're bold, edgy, and unique, and definitely deserve a spot in your winter wardrobe.
Saddle Up
Saddle bags — in other words, bags that close with a flap that looks like a saddle sitting on top of your bag from the side — are back with a bang, because everything that was once popular in the aughts is randomly cool again. (Hopefully you saved your purses from way back when?) Done by Calvin Klein, Loewe, and Chloé in chic leather ways, it's the perfect everyday bag that mixes style and convenience.
Croc On
If you've read anything about what's trending for winter, then you've definitely heard that animal print everything is huge. Naturally, that means faux croc bags are the purse du jour. At least so say Gucci, Giambattista Valli, and Prada, which are kind of the creators of cool.
Belt It Out
Standard '90s-inspired fanny packs are (once again) out, and chic, highly stylized belt bags are in. Tod's, Sportmax, and Lanvin are among the designers that championed your new favorite festival bag, but honestly, it's good enough to wear literally everywhere.
Totes Cool
If you're like Mary Poppins in that your bag typically carries everything anyone might possibly need throughout the day (I love these kinds of friends), then the oversize tote trend is one you need to invest in, stat. Dior, Balenciaga, Prada, and Burberry clearly know the value of a big bag and have therefore inspired brands to drop some uber chic versions by first sending some down their own runways.
Carried away yet?