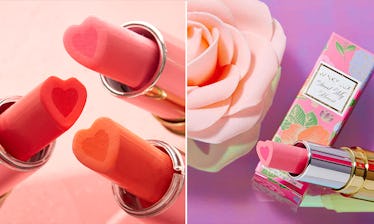 Winky Lux's Cult Favorite Heart-Shaped Lipsticks Are About To Be Free — But For One Day Only
Winkylux
I try a lot of products, but I'm a sucker for packaging. The inside of my vanity drawers are packed with the items I love and use on a daily, but the top of my vanity is reserved for the really cute stuff. My vanity top is where you can find things like those super cute Winky Lux heart lipsticks, all of Tarte's limited-edition makeup brushes, my gorgeous Christian Louboutin nail polish bottle, you know, the really good-looking stuff! These are the things that make my makeup room look pretty and totally Instagrammable, but the ones I use only on special occasions, if at all. They're the items that are too good to waste, but are nice to look at. But what's the point of having really good-looking products if you can't use them?
No matter how cute it looks, not using it is a waste. It's not that I don't want to use my unicorn makeup brushes and stiletto-inspired nail polish, it's just that they look better on display in perfect condition. Well, lucky for you, Winky Lux is having a buy-one-get-one-free sale on their heart-shaped lipsticks this Friday. That way you can keep one in your purse (and actually use it), and keep another one as decoration on your perfectly curated vanity top. The brand is offering the sale in honor of National Kissing Day, and we can't think of a better way to celebrate the holiday either, can you?
These Winky Lix Steal My Heart Lipstick Pills ($14; winkylux.com) come in three universally flattering shades: Be Mine (a soft pink shade that makes you feel more like Baby Spice than a pair of pigtails ever could), Call Me (the perfect orange-red shade for summer), Kiss Me (a true classic red that pairs perfectly with a cat eye and a fake mole above your lip). But the best part is the bullets are shaped like hearts, which actually does more than just dress up the top of your vanity — it makes for easy application (the top of the heart perfectly hugs your cupid's bow, while the bottom of the heart gives you a clean line without lip liner). And speaking of application, the lipstick formula is totally buildable — one swipe gives you a pretty flush, while two or three give you a full-on pigmented pout — so you can customize your look depending on your mood.
The dual-core lipsticks (two-toned hearts) come hidden in Winky Lux's signature gold and silver capsule-shaped "lip pill," that looks impossibly chic, whether it sits on your vanity or lives in your makeup bag. And as if that wasn't enough, the pill comes packaged in a floral box that's almost too pretty to throw away. Don't believe me? See below.
So, what will it be? Will you be the girl (like me) who refuses to use the really good products, or will you be the one who's smart enough to get a second set (for free, of course) and gets the best of both worlds? Sure, the double-heart shaped bullet design is almost too cute to use, but you'll take comfort in knowing you have an extra on display somewhere. So go ahead, swipe on the Steal My Heart Lipstick Pills and go for the maximum pigment, because there's plenty more where that came from.
The buy-one-get-one-free sale is only on this Friday, July 6 on winkylux.com, so set your alarms, have your mom remind you, do everything you need to do to get your hands on this offer. Finally, you'll have a pretty pink flush on your lips, and an Instagrammable stash to boot. Who said you can't have it all?