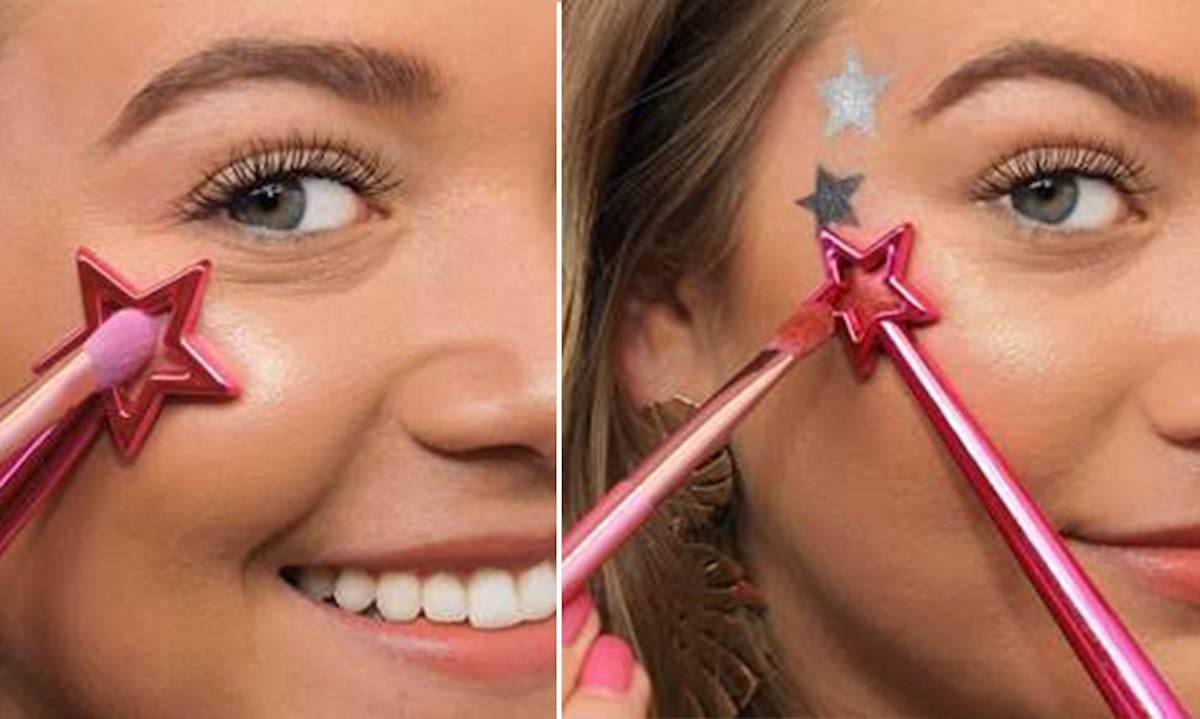 This Genius Star Makeup Hack Will Get Your Fourth Of July 'Grams Glistening & It's Easy AF
Tarte
If you've been lusting over the magic that is Tarte's Fairy Dust brush set and are yet to treat yourself, the brand just let us in on a secret that's going to make you want them now more than ever before. The pink and purple bristles do everything from apply your eye shadow to contour and highlight your cheeks, but the real surprise comes from the base of the brush. Sure, those stars bring a certain whimsical touch to your vanity, but they're much more than just good looks. As it turns out, the negative space works as a star-shaped stencil, perfect for creating fun, patriotic makeup look — and just in time for Fourth of July, too.
Ever since my days as a pop warner cheerleader, I've always enjoyed a good face embellishment. For football games and cheerleading competitions, it was stickers and glitter. But, peeling them off at the end of the day was the worst. They were always so close to my eye, and I've always had a lot of peach fuzz — you do the math. Then, not too long ago, brands like Milk Makeup, Rimmel, and Lottie London released makeup stamps in shapes of hearts and stars that made it easy to create cute looks (without the painful end-of-day wax job), but they all came in black, which left little room for creativity.
But now, with this genius hack using Tarte's Limited Edition Pretty Things & Fairy Wings Brush Set ($42; tartecosmetics.com), you can get the look of colorful face tattoos without having to put a sticker so close to your eye (because, ouch!). All you do is choose your star size (the powder brush is the biggest, and the eye shadow brush is the smallest), place it on your face, and use a small brush and your favorite shadow color to fill in the space inside the star.
Carefully remove the star-shaped wand to reveal your new face tattoo. Repeat on the same eye, stick to a single star, or do the same on the other — no matter what you choose, the result will always be a fun, playful look that is completely customizable.
I'm also thinking it might be cool to create the look in reverse. Hear me out: How cool would it look if you place the wand on your cheekbone, apply blush all around the star, and just to give you a really cool negative-space look, fill in the star with concealer. The final look would be a flushed cheek with a star-shaped cutout in it. I can picture it already, and it's stunning.
If you're anything like me, you've been planning your Fourth of July makeup ~lewk~ and patriotic (though still super-fashionable) outfit for months now. I already had my entire look planned out, but this new hack from Tarte just made me rethink everything. I had a whole vision in my head of a bright blue cat eye paired with a candy-apple red lip makeup look, complete with a white summer dress and a slicked-back ponytail. But now, I'm thinking I'll go with jeans, a white tee, and glitter stars on my face — and just like that, I'm basically a 5-year-old cheerleader back in pop warner, minus the bow on my ponytail.
If you still haven't decided on your Independence Day look yet, Tarte has you covered. Try the stenciled stars in shades of red, white, and blue eye shadows, and just like that, you'll have yourself a patriotic look that's cute and festive with looking overdone or feeling forced. America the beautiful, indeed.