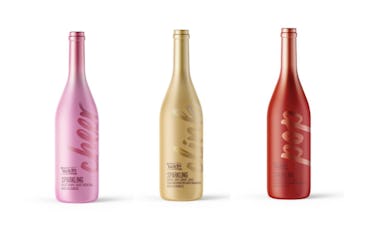 These Shimmery Welch's Sparkling Juice Bottles Are Perfect For Your Holiday Bash
Courtesy of Welch's
Approximately 10 out of 12 months of the year, I'm frugal as can be. I try to save as much cash as possible while only spending money on "the necessities," which include rent, transportation, food, and maybe a little bit of fun. However, once the holiday season rolls around, I can't help but ball out. I'm a total sucker for Christmasy soaps, I always buy a few wintery candles, chocolate-peppermint cookies become my daily snack, and Santa-shaped chocolates fill my fridge to the brim. This year, though, my holiday must-haves include each of these Welch's Sparkling Juice holiday bottles from Target. Regardless of how hard I'm trying to save my cash, they are far too cute to pass up.
Whether you're planning to concoct a sparking signature cocktail or if you're simply providing a non-alcoholic beverage to your holiday party guests, Welch's sparkling juice is always a necessity. Welch's offers three delightful flavors: Red Grape, Rosé Cocktail Juice, and White Grape, and while each and every flavor tastes absolutely phenomenal, the new bottles are straight-up gorgeous.
If you haven't already seen the Sparkling Red Grape flavor, it comes in a shiny red bottle, resembling Santa Clause, candy canes, and holly berries all in one. It may just be a rich sparkling grape juice (which according to Welch's, is now complete with 100 percent juice, I might add), but it honestly looks sophisticated AF and perfect for any holiday extravaganza.
The Sparkling Rose Cocktail flavor, on the other hand, comes in a chic millennial pink. It's perfect for any and all wine spritzers, or simply on its own. As a rosé fanatic, you know I'll be sipping on this one all night long.
Lastly, the Sparkling White Grape bottle comes in a shimmering gold bottle, and let me tell you — it's totally the belle of the ball. Now made from 100 percent grape juice, according to Welch's, it's all you'll want amidst a night out, or during an evening of Netflix in bed. TBH, it's absolutely gorgeous and I need it on my bar cart this instant.
Once you've gotten the chance to snag yourself a holiday bottle (or all three of them), you should probably know that Nutella is selling mini $1 holiday jars of their classic hazelnut-chocolate spread, for an extra-festive snack. The miniature red and green jars are honestly the perfect holiday gift for any chocolate lover out there, but if you simply decide to eat one all by yourself, I won't tell anyone. It'll be our little secret.
Whether you're looking for a super solid hostess gift, if you're planning to host the party of the year, or if you're simply lounging around in the comfort of your own home, Welch's Target-exclusive holiday bottles are a gorgeous (and hella festive) addition to your refrigerator or bar cart. Get one while they're still around, though because I definitely have my eye on that pink bottle. You'll want to get make that Target run before all of them are gone.