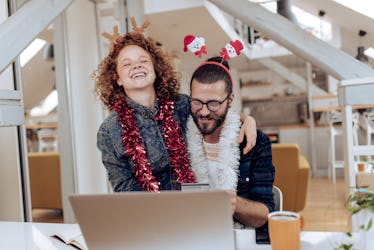 These Virtual Holiday Experiences Are As Cool As Frosty The Snowman
MixMedia/E+/Getty Images
'Tis the season for sippin' hot chocolate with marshmallows, baking gingerbread cookies, and enjoying as many holiday-themed experiences as possible. However, before you fill your itinerary with drive-thru light shows and holiday movie nights in your festive PJs, look into the virtual holiday 2020 experiences that even Frosty the Snowman would think are cool.
These virtual holiday experiences can all be enjoyed at home while you're relaxing on your couch, surrounded by your cozy decor. Plus, they adhere to the guidelines for protecting yourself from the coronavirus, by the Centers for Disease Control and Prevention (CDC), which was updated on Nov. 27, 2020. The CDC strongly urges everyone to avoid close contact with others, and only celebrate with the people in your immediate household. That's where these virtual excursions and adventures come into play.
These virtual holiday experiences only require yourself and a WiFi connection, but can provide tons of fun for the season. Some of them may make you feel like you're on the North Pole, while others consist of shopping small vendors as if you're taking a stroll through the most iconic Christmas markets. Before you jump into the seasonal fun, put on a pair of snowman socks. Then, prepare for them to be rocked by these virtual holiday experiences.