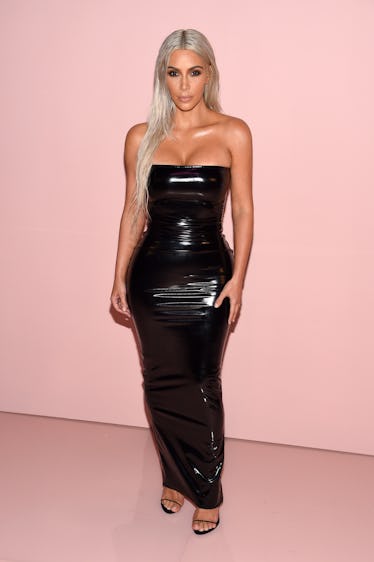 Kim K Recorded Saint West Talking About His "Sissy" Chicago West & We're Sobbing
Dimitrios Kambouris/Getty Images Entertainment/Getty Images
Saint West is total #BrotherGoals. The adorable son of Kim Kardashian and Kanye West may only be two years old, but he's already picked out the perfect Valentine's Day gifts for both of his sisters. So, what did he get his two lucky sibs? A couple of his mama's new fragrances, of course! Kim K has been hard at work promoting her new Kimoji Hearts line of perfumes on social media, and these videos of Saint West talking about Chi West that she shared on her Snapchat are the most adorable thing I've seen in awhile.
In the clip, Saint is holding the purple "Ride or Die" scent from the new line. He's also wearing a cool black-and-white pair of Vans and sporting a coordinating brand sticker on his arm. Is this a new trend? Because if it's not, you can be sure it's going to be now.
"Saint, what's this perfume you're carrying around?" the reality star asks her son (in a voiceover that randomly sounds a lot like Jennifer Garner). "Is that Mommy's perfume? Who is that for?"
"Here's Legos for you," he says in response, handing over a big plastic bag filled with colorful bricks.
"Oh I get the Legos and you get the perfume," Kardashian then asks, basically summing up motherhood in 10 words. "But who's the perfume for?" she presses.
"My Sissy," tells her.
‌Awww! I am loving the little nickname! Of course, Saint didn't specify which sister he was referring to. But Kardashian later cleared up the mystery by typing out the answer in a post on her Instagram story.
Thanks, Kimmie! So, it looks like three-week-old Baby Chi will be the proud recipient of the purple "Ride or Die" scent, and big sis North will score a pink bottle of "BFF." Not gonna lie — I'm totally jelly. Because ever since I first saw Kardashian's sister Khloé smash into one of the fragrance press boxes with a custom "KKW" mallet to reveal the new perfume, I've been obsessed with getting my hands on one of these bad boys.
How cool is that?! And check it out — Paris Hilton got one, too:
I could watch these videos all day. I mean, don't you want one now? Even the reality star's enemies are going to be on the receiving end of one of these dope perfume press boxes for Valentine's Day. That's right, guys — in another Snapchat video, Kardashian showed off a table accessorized with dozens of colorful Post-Its scrawled with various A-listers names. She said all of those names would be getting her new perfume, and they weren't all her BFFs.
"I decided this Valentine's Day everyone deserves a Valentine," the Keeping Up With The Kardashians star explains in the clip. "So, I'm gonna send one to my lovers, my haters, to everyone I can think of, because it's Valentine's Day after all."
I love it! So just who, exactly, made Kardashian's naughty list? All the people who the reality star has gotten into feuds with in the past, after they critiqued her for things like posting nude selfies and covering magazines in various stages of undress. In other words, celebrities like Taylor Swift, Blac Chyna, Wendy Williams, Chloë Grace Moretz, Chelsea Handler, Sharon Osbourne, Pink, Bette Midler, Piers Morgan, Sarah Michelle Gellar, Naya Rivera, and Janice Dickinson.
TBH, I'm all here for rising above the haters, and I think it's pretty cool that Kardashian is gifting everyone a perfume, even if they have majorly dissed her. But is sending mallets in the mail to people who aren't necessarily down with you really such a good idea?
I'm gonna go ahead and say probably not. Stay safe, Keeks!