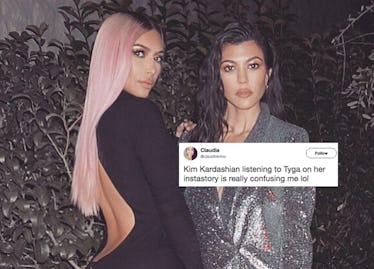 Kim & Kourtney K Just Posted Videos Listening To Tyga's Music, So Fans Are Confused AF
Kim Kardashian on Instagram/Twitter
The Kardashian family can be the most confusing family on the entire planet sometimes. First Kim and Kourtney Kardashian are having the worst Twitter fight of their lives in order to promote the season premiere of Keeping Up With The Kardashians, and now they're on vacation together with their kids. The most confusing part of this vacation isn't the fact that it's happening... nope. It's the fact that she and Kourt are blasting Tyga's music while lounging about. These videos of Kim and Kourtney Kardashian listening to Tyga's music have fans seriously scratching their heads.
If you can remember, my Kardashian-loving friends, Tyga is Kylie Jenner's ex-boyfriend. They dated for years before breaking up in 2017. Not long after, she started dating Travis Scott, and well, you know the rest. Tyga basically used to be a member of the Kardashian/Jenner family, though, so given all of that history and the fact that the sisters are all so hardcore "ride or die" for each other, it's admittedly kind of weird that Kardashian chose a Tyga song to post on her story. (She also posted a video of her and Kourtney bouncing on a trampoline to Beyoncé and JAY-Z's "APESH*T," which, LOL.)
Kim K blasted Tyga's "Taste" not once, but twice on her Instagram story on Aug. 8. The first video the song was in showed Kim walking toward a pool.
The second time the song appeared was when she and Kourtney were bouncing on a trampoline.
I guess there's no more bad blood between the family and Tyga, but considering how intensely Kim and Khloé defended Kourtney following her breakup with Younes Bendjima, they wouldn't give Tyga a second thought anymore.
Fans are confused.
Speaking of the Kardashians and their exes, Kourtney Kardashian and Younes Bendjima reportedly broke up. A source told E! News that things for the couple went downhill pretty fast after returning from their Italy vacation with Kourtney's kids. "Kourtney and Younes have been arguing since coming back from their big Italy trip and have truly not been getting along," the source said. Elite Daily reached out to Kardashian and Bendjima's teams for comment on the reports of the breakup.
The two were apparently planning to work things out after taking a bit of a break, but then Bendjima was seen cuddling up to a woman named Jordan Ozuna while they were on a trip to Mexico with a group of friends. E! News reports that that was basically the nail in the coffin of their relationship. "There was a huge chance they were going to get back together and they were working on things," the source said, "but now that these photos surfaced, things are definitely over."
The Daily Mail released photos of Bendjima and Ozuna, and he was not happy about what the implications were. He posted a screenshot of the Daily Mail article to his Instagram story and said,
They really want me to be the bad guy f*ck your Hollywood bullsh*t (can't have fun with your friends no more) dailymail Where are my 12 others friendssss? Nice catch tho 🎣
Khloé Kardashian went into ride-or-die mode and commented on The Shade Room's Instagram post showing Bendjima's Instagram story. She said, "Alexa play 'heard it all before' by Sunshine Anderson." Woof.
Kim Kardashian, also in ride-or-die mode, made a similar move after The Shade Room posted another one of Bendjima's stories. The model's story said,
Once again you guys failed. I'm not attached to this 'life' so you can't touch me. I know who I am where I'm from and where I'm going and that bothers you. Only one opinion matter The one of my Lord. Have a wonderful day.
Kardashian commented on The Shade Room post and said, "Nice pics from your 'boys trip.'" Yikes.
See what I mean about the ride or die vibe when their sister has dumped their boyfriend?! OK, sure, maybe Kylie and Tyga's breakup was a lifetime ago and Kylie has more than moved on since, but them jamming to Tyga's music just seems out of the ordinary.