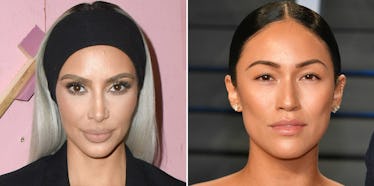 These New Videos Reveal A Lot About Kim K's Current Relationship With Steph Shep
Vivien Killilea/Dia Dipasupil/Getty Images
The status of Kim Kardashian and Stephanie Shepherd's friendship has been a topic on a lot of fans' minds ever since Kardashian reportedly fired Shepherd in November of 2017. Was their friendship over? Did a feud even exist, or did they just not work well in a professional setting together anymore? It doesn't seem like fans will ever get the full details of what went down between them from the women themselves, but these videos of Kim Kardashian and Steph Shep at Kourtney Kardashian's birthday party definitely mean they're still friends. That, or they've resolved their issues and are in a good place again.
Kourtney Kardashian's 39th birthday was on Wednesday, April 18, and she had a birthday dinner with her girlfriends and family to celebrate. Kim Kardashian, Kanye West, Kris Jenner, and Kendall Jenner were all at the party, but Khloé Kardashian and Kylie Jenner couldn't make it because they're both currently out of California with their babies. (Kardashian is still living in Cleveland with baby True, and Jenner is in Houston with Stormi and Travis Scott.)
The sisters have been posting birthday tributes to the oldest Kardashian sibling all week. Kim Kardashian's birthday Insta for Kourtney Kardashian said, "Happy Birthday to my friend I've had the longest in my life! Wouldn't know what to do without you! Have the best birthday ever!!!!"
She posted this shot of her and Kourtney from their recent vacation to Turks and Caicos.
Kim and Kourtney both spent all of last night, April 19, posting videos and Boomerangs from Kourtney's birthday party to their Instagram and Snapchat stories, and that's where Steph Shep made her appearances.
The first glimpse fans got of Kardashian and Shepherd together was on Kourtney's Instagram story.
Kourtney panned around the room as her friends sang "Happy Birthday" to her, and the end of the video falls on Steph Shep getting her whole life.
Then Kourtney pans over to Kim K, who's apparently standing and dancing with Shepherd as they sing.
So it definitely looks like things are going just fine between Kim K and Steph Shep.
Kim K even posted a selfie video of her and Shepherd to her Instagram story.
Yeah, they're fine.
They even posed for a Boomerang together for Kourtney's story.
All of the reported drama between Kardashian and Shepherd started when Kim K felt Shepherd wasn't as focused on her job as her assistant as she needed to be. Shepherd has been good friends with Kourtney for a long time thanks to her former job as Kim's assistant, and Kim talked to Kourtney about their friendship in an October episode of Keeping Up With The Kardashians. After a night out, Kourtney told Kim that Shepherd said she was feeling unfulfilled with her career. She said,
Just a heads up, we were talking and she was saying that she didn't know what she wanted to do in life ... She feels, like, maybe she's in a place in life where she's unfulfilled, job-wise.
She continued, "I feel like she's just looking to, like, evolve." Kim wasn't pleased to hear this news. She said back to her sister, "I do think it's inappropriate for her to talk to you and not to me," adding in a separate shot, "I mean, don't you think that's just a little unprofessional?" Kourtney chimed in with, "I think we were talking more about life in general. And then, because we were talking about it, then she brought it up." Kim replied, "But that's a convo she should have with me."
Shepherd was fired by Kardashian in November 2017, not long after that episode aired. At the time, a source told Us Weekly that the reason for her being let go was reportedly because Kardashian felt she wasn't focused enough on her actual job. And a Refinery29 profile of her didn't help. The source said,
Stephanie started thinking she was a celebrity herself, and Kim didn't like that. Everything started going downhill after the Refinery29 article came out ... Things aren't how like they used to be. Stephanie does still hang out with the family and Kim and her are cordial when they see each other, but it's different.
Another source made a contradictory claim, saying,
Kim and Steph are still friendly and still speaking. Kim wouldn't say that Steph thinks of herself as a celebrity ... Kim respects Steph and wants her to do well.
Now, it looks like things between Kim Kardashian and Stephanie Shepherd are doing just fine. So let's focus on the real star of Kourtney and Kim Kardashian's Instagram stories from April 19: Kris Jenner.
Kourtney, Kim, and Steph all posted the same video of Kris Jenner's speech at the party to their stories. It started out with Jenner taking a drag of a cigarette, drink in hand, looking like a mobster. I live for this.
"I'm Kris Jenner, b*tch."
"Where's my 10 percent?"
I would give anything to get drunk with Kris Jenner. One day, she whispers to herself while watching Kris Jenner's speech at Kourtney K's birthday party on repeat. One day.