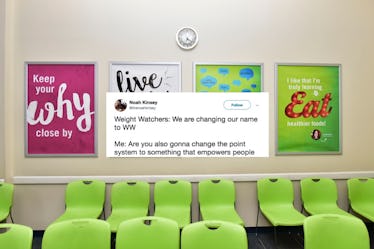 Weight Watchers Is Rebranding To Focus More On Wellness, But Twitter's Not That Convinced
Whether you're a person or a brand, change is never easy. It tends to happen at either a frustratingly slow pace or it overwhelms you all at once. Somehow, Weight Watchers is currently straddling both sides of that fence: On Monday, Sept. 24, Weight Watchers announced that it's rebranding to "WW," and that the company is shifting its focus to help people "build healthy habits without focusing on weight loss," according to a press release. This shift in the company's mission is, to many people, long overdue, and these tweets about Weight Watchers rebranding to "WW" show that, while some are applauding the brand for these changes, others are still questioning the program's overall intentions.
Weight Watchers has, for obvious reasons, always been associated with weight loss, and the brand has seen its fair share of criticism for that. Most recently, in February, the company saw some backlash when it launched a free weight loss program for teens, which is understandable. After all, a person's weight hardly tells you anything about their overall well-being, according to research published in the medical journal JAMA Internal Medicine. However, according to the company's press release this week, Weight Watchers' new tagline is "Wellness that Works," and part of its decision to rebrand is to move away from the focus on weight loss programs, and embrace "overall health and wellness," as per the press release. Mindy Grossman, president and CEO of WW, said in a statement for the press release,
We are committed to always being the best weight management program on the planet, but now we're putting our decades of knowledge and expertise in behavioral science to work for an even greater mission. We are becoming the world's partner in wellness. No matter what your goal is – to lose weight, eat healthier, move more, develop a positive mind-set, or all of the above – we will deliver science-based solutions that fit into people's lives. This is just the beginning of our journey to become the world's partner in wellness, and I am inspired by the potential for our impact.
Following the news of the rebrand, people took to Twitter to express how they really feel about the new "WW." While some are hopeful about these changes, others seem skeptical that the programs will actually be different.
Speaking of the "points system" that Weight Watchers is known for, according to the brand's press release, the program will still allow you to look up SmartPoints values for your food (according to the company, SmartPoints are calculated "based on the latest nutritional science"), but as of Oct. 4, WW will also include a brand new version of its FitPoints system, which will encourage personalized "activity choices based on what will have the greatest impact on an individual's health and wellness." Basically, as the press release explains, FitPoints assigns different point values to different workouts and activities (like weightlifting, running, etc.). Some activities might be worth fewer points if they're a little more low-key, like walking, for example, while more intense workouts, like strength training, will have a higher value.
What's more, WW also announced in its press release that it's launching a new program called WellnessWins, which will act as another type of rewards system to encourage people to engage in everyday healthy habits. The press release says WW members will "earn 'Wins' for tracking meals, activity and weight, as well as for attending WW Wellness Workshops." Additionally, the press release about WW's rebrand says the company has partnered with the meditation app Headspace "to help develop customized content for WW members," with a focus on mindset as "an essential part of overall wellness."
So, clearly, WW is trying to change. But, again, not everyone's buying it. Christy Harrison, a registered dietitian and host of the Food Psych podcast, told BuzzFeed News,
This rebranding [is] actually going to sucker some people. Ultimately, it's the same company that gave us decades of unsuccessful dieting and people countless triggers for disordered eating. It's not like that's gone away, it's just gone underground.
The doubts people have cast on WW's rebrand are understandable, but only time will tell whether the company truly moves away from its narrow focus on weight loss, and toward a mission that's more body-positive and focused on holistic wellness.