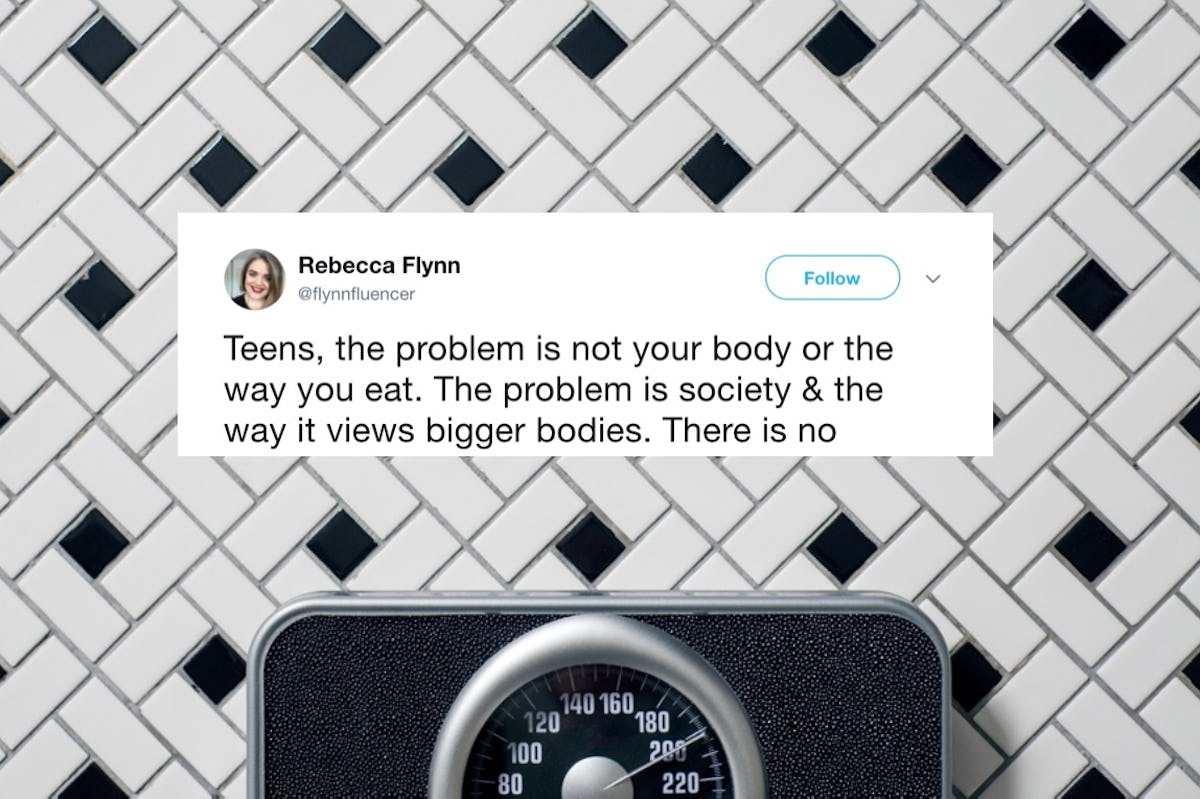 Weight Watchers Is Offering A Free Program For Teens & Twitter Is Furious
Kathryn Swayze/Stocksy/Twitter
On Wednesday, Feb. 7, it was announced that weight loss program Weight Watchers is offering a free program for teens between the ages of 13 and 17. According to a press release issued by the company, the program is scheduled to kick off in summer 2018, and aims to encourage healthy habits early on in life. But in the days following the announcement, the best way to describe social media's backlash would be a combination of confusion and anger.
While it's important for everyone to acquire healthy habits that work for them and research what kinds of food are best for their individual bodies, people on Twitter are skeptical about this new program. Once the press release went public, people began flocking to social media, claiming that despite Weight Watchers' seemingly good intentions, this sort of program could potentially have the opposite effect, and could lead some young people to struggle with body image issues and/or disordered eating. Since announcing its program, Weight Watchers posted a response to the backlash on Twitter:
Earlier this week, we shared the future vision of Weight Watchers, including some changes we are making to bring health and wellness to all, not just the few. As part of that, we announced we would open WW to teens for free. We hear you NEDA and we take our responsibility seriously. We know that the teenage years are a critical life stage and opening WW to teens with constant from a parent/guardian is about families getting healthier. What we will be providing for teens is a program that guides healthy habits for life, not a diet. We have and will continue to talk with healthcare professionals as we get ready to launch this program.
Emotions are running so high at the idea of this new initiative, that even professionals are speaking up. Teen Vogue reports that Melainie Rogers, MS, RDN, a dietitian and founder of the BALANCE Eating Disorder Treatment Center in New York City, launched a Twitter campaign with her team in response to Weight Watchers' new initiative.
Through the hashtag #WakeUpWeightWatchers, people are sharing their own experiences with diets and eating disorders to send a powerful message to the brand about targeting adolescents.
Following the National Eating Disorders Association (NEDA)'s tweet, Weight Watchers has issued a statement in response to the backlash from Twitter users and the National Eating Disorders Association:
It's important to note that, according to the original press release, Weight Watchers plainly stated that it would be offering free membership to teens in order to help "the development of healthy habits at a critical life stage." The brand did not specify whether or not this program would be structured as a traditional diet or aimed at weight loss. However, because Weight Watchers was, after all, founded as an effective approach to losing weight, according to its "Who We Are" page, it makes sense why people would assume this initiative would follow suit with the company's weight loss strategies.
As Weight Watchers stated in its Twitter response to this backlash, the program will be open only to teens who are given parental consent to participate, and the program will offer guidance on how to live a healthy lifestyle, not a diet plan. Specific details about the plan are not available as of yet, so it hasn't been mapped out to the public what, exactly, it will entail. However, the brand stressed in its statement that it takes this responsibility seriously, and it's continuing to work with health care professionals to ensure the program is safe and beneficial for all.
Though society absolutely wants to put a stop to diet culture at such a young age, Weight Watchers could turn out to be an excellent resource for some young people who want to adopt healthy habits, as many people claim the brand's representatives and employees have led them to success. Still, the potential repercussions of this type of program for young people cannot be ignored.
According to a survey conducted by the Center for Discovery, an organization that offers information and resources on health and wellness for people with disabilities, it was found that anywhere from 35 to 57 percent of adolescent girls "engage in crash dieting, fasting, self-induced vomiting, diet pills, or laxatives," and that those who diet frequently are up to 12 times as likely to develop an eating disorder than those who do not diet.
It's a slippery slope, but if any company can encourage teens to consider their own personal wellness and adopt healthy eating habits, Weight Watchers could be, at the very least, a resource that teaches young people how the healthy habits and choices they make today can impact them later in life. Teenagers need to be built up and educated on the abundance of nutritious foods they have to choose from, but above all things, their body positivity has to come first.