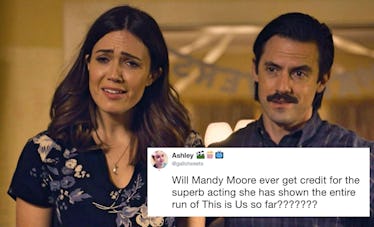 'This Is Us' Was Hardcore Snubbed By This Year's Golden Globe Nominations
NBC
For the most part, movie and TV fans seemed to come away from Thursday morning's Golden Globes nominations pretty content. Pretty much all of the big movies and shows that fans and critics were clamoring for wound up being recognized. But there was one major snub that has TV fans pretty upset. The tear-soaked NBC family drama This Is Us has been a perennial nominee at the Golden Globes since it first premiered two years ago, but the Hollywood Foreign Press gave the show no love for its third season. These tweets about This Is Us 2019 Golden Globes snub prove that the extended Pearson family online is not happy at all about the nominations.
Ever since This Is Us premiered in the fall of 2016, the multi-generational, time-jumping family drama has gone on to be a constant Golden Globes contender... up until this year. In its first season at the 2017 Golden Globes, This Is Us was nominated for Best Television Series - Drama and its lead women Mandy Moore and Chrissy Metz were both nominated for acting trophies. And last year, the show's second season was again nominated for the best television drama, and both Metz and Sterling K. Brown received acting nominations. Although the show has never won a major Golden Globe, fans had become used to the series getting a few nominations each year.
But this year's Golden Globe nominations put a swift and unexpected stop to the This Is Us awards train. This Is Us received no nominations at all for the 2019 Golden Globes. For the first time since it premiered, This Is Us is up for zero awards at the Golden Globes... and fans are not happy about it. Check out how This Is Us fans responded to the shocking snub on Twitter:
The snub may come as even more of a shock to This Is Us fans since the show was just up for three Emmy Awards less than three months ago. At the 70th Annual Emmy Awards on Sept. 17, This Is Us was up for Outstanding Drama Series and its stars Milo Ventimiglia and Sterling K. Brown were up for Outstanding Lead Actor in a Drama Series, although the show lost all three awards.
There is a reason why This Is Us got Emmys love a few months but snubbed by the Golden Globes now, though. The 2018 Emmys nominated This Is Us for its second season, whereas This Is Us was eligible for its third season for the 2019 Golden Globes. This could be a pretty telling and disappointing distinction for This Is Us fans, since it seems to denote a decrease in critical interest in the drama's currently airing third season.
Instead of This Is Us, the shows nominated for the Best Television Series - Drama category this year are The Americans, Bodyguard, Homecoming, Killing Eve, and Pose. Notably, the category consists almost entirely of new shows that premiered in 2018, the only exception being The Americans. I guess the Golden Globes were looking for some new blood in the drama television category this year.
The 76th Annual Golden Globe Awards will air on Jan. 6, 2019.