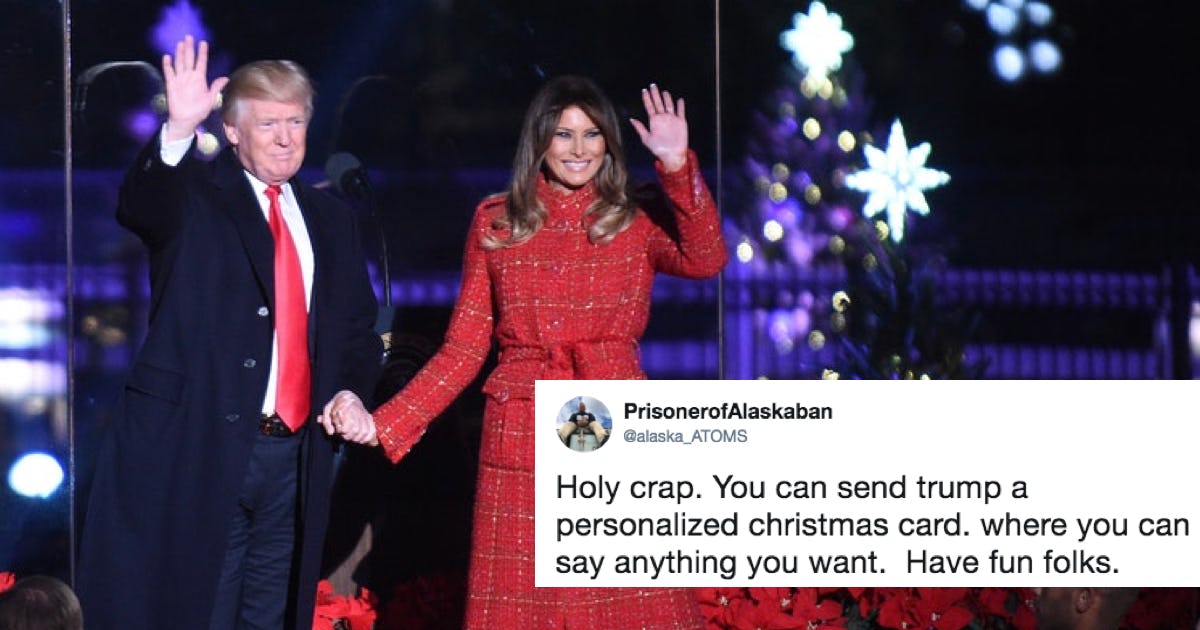 The Trump Family Christmas Card Is Here & Twitter Is Having a Field Day
ASTRID RIECKEN/GETTY IMAGES NEWS/GETTY IMAGES
It appears Christmas has come early for politcos, and it's all thanks to the president. Our commander in chief and his administration decided to let the good 'ol U.S. of A send its well wishes to the Trumps for the holiday season. However, these tweets about the Trump Family Christmas card just might make the White House reconsider this plan.
For those who are curious about sending season's greetings (or some other type of greeting) to our leader can visit GOP.com. Once there, you'll be prompted to "Wish President Trump, First Lady Melania, and the rest of the First Family a Merry Christmas! Sign the card and leave your personal note." Given the way 2017 has unfolded and the way in which so many Americans have reacted to his policies, the president will presumably be a little on edge with the responses he'll receive.
To recap, there has been utter pandemonium between political parties this year, and the divide between both sides was alive and well. Between issues such as the Muslim Ban, the tax plan, health care reform, threats from North Korea, the firing of top officials, the Michael Flynn debacle, and of course, plenty of Twitter arguments, there are many issues people can address in their holiday note... but the president might not want to hear what they have to say. Nevertheless, the card is up online and awaiting signatures.
Naturally, upon hearing this news, Twitter had a field day.
Some couldn't help but notice a family member was M.I.A.
Other Twitter users, however, are praising Trump and his holiday celebrations (and the cards they received from the First Family).
The Twitter firestorm has officially commenced. But this isn't the only aspect of the First Family's holiday celebration that has made the social media rounds. People were quick to comment on First Lady Melania Trump's Christmas décor, which made its debut on Nov. 28. According to a White House press release, she said,
The President, Barron, and I are very excited for our first Christmas in the White House. As with many families across the country, holiday traditions are very important to us. I hope when visiting the People's House this year, visitors will get a sense of being home for the holidays. On behalf of my husband and Barron, I want to wish everyone a Merry Christmas and joyous holiday season.
Though many people will find something to nitpick, you have to admit that the White House does look pretty festive.
The Trumps are participating in age-old holiday traditions, according to the White House Historical Association (WHHA), such as the First Family sending its own cards. President John Adams held the first White House Christmas party in 1800. Almost 90 years later, President Benjamin Harrison allowed Christmas trees to become a decoration staple in 1889. Former President Bill Clinton really got into the holiday spirit and had 36 Christmas trees in the White House during his tenure. Celebrating the festivities is certainly nothing new.
Whoever has the duty of sifting through those virtual messages on behalf of the Trump family, I wish you the best of luck. It's definitely going to be an adventure, that's for sure. I just have to warn you, President Trump, I know this woman from Texas — an educator, world traveler, and multimedia journalist — who is dying to fill out your card. I assure you she will certainly have something to say about your first year in office. When you receive a textbook-like response, it will most likely be from her.
Happy holidays, folks. 'Tis the season to be political, right?
Check out the entire Gen Why series and other videos on Facebook and the Bustle app across Apple TV, Roku, and Amazon Fire TV.