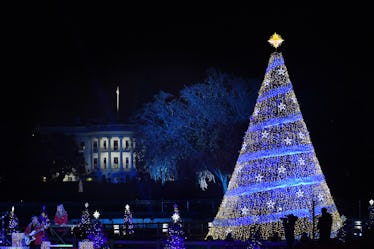 Trump's White House Christmas Decorations Vs. Obama's Are Making Us So Nostalgic
Astrid Riecken/Getty Images News/Getty Images
With only 18 days until what many consider the greatest day of the year, it's time to start feeling all of the warm, fuzzy, nostalgia-driven feelings that the winter holidays bring. Which, of course, means looking at Christmas decorations from years past — especially White House decorations, which are especially festive. So we rounded up these photos of Trump's and Obama's White House decorations, because they are making us seriously nostalgic.
Both 2016 and 2017 White House Christmases have us jonesing for eggnog and gingerbread in front of a roaring fire. They join a more than 200-year-old tradition that has, in my Christmas-loving opinion, just gotten better and better with age.
The history of Christmas celebrations at the White House stretches all the way back to the President John Adams and his wife Abigail, who held the first White House Christmas party in 1800, according to the White House Historical Association (WHHA). But it wasn't until President Benjamin Harrison that Christmas trees became a part of White House décor in 1889. The first electric lights appeared on a Christmas tree, thanks to Grover Cleveland, in 1894. And from there, the tradition took off, with Dwight Eisenhower installing a record-breaking 27 trees in the White House — a record that he held until Bill Clinton's presidency, which in 1997 featured a whopping 36 trees.
But no matter the number of trees, White House Christmases are full of showmanship and holiday spirit. And, by and large, both the Obamas and the Trumps really know how to throw some lights on some fir and pine. But there are slight differences.
Let's take a look.
First, the Trumps' first official Christmas.
First Lady Melania Trump premiered her White House decorations on Nov. 27, and it's sparkly and elegant, a classic dream. According to a press release, the theme this year is "Time-Honored Traditions" to celebrate the more than 200 years of White House Christmas celebrations. But Trump also included a tribute to service members and their families; a dining and hospitality-themed room; a room dedicated to the 1961 "Nutcracker Suite" — the White House's first themed-Christmas; a room dedicated to Christmas sweets; one for crafts; and more. It's... a lot.
And the first pictures of the Trump White House were creepy, like a dark reimagining of Miracle on 34th Street or whatever. But other pictures reveal the truth: while some of FLOTUS's choices are avant garde, it's actually a pretty festive scene.
Here is the Grand Foyer.
And, oh, is it grand. And very symmetrical. So pleasing to the eye.
Here's another shot of the Grand Foyer, featuring the first lady smiling as she looks at some ballet dancers.
There's also a traditional White House made of gingerbread.
According to FLOTUS's communications director, is made from 300 pounds of gingerbread.
Then there's the East Room.
This year, it featured two trees and a detailed nativity scene.
The first lady has gone out of her way to create a very carefully controlled aesthetic, with minimal color variation and lots of white lights.
As for the Obamas' most recent White House Christmas — 2016, for those with short memories — their aesthetic choices were more colorful.
According to the Associated Press, the Obamas' last year was themed, "The Gift of the Holidays." And what a gift it was.
C-SPAN posted a fun walk-through, with takes you through all of former First Lady Michelle Obama's choices. According to C-SPAN, the 2016 decorations included 65,000 ornaments, 109 wreaths, and 63 Christmas trees.
And lots and lots of color.
Like these giant likenesses of the Obama dogs.
Here's the Grand Foyer.
Very similar to the Trumps.
And, oh look! Another giant gingerbread White House.
Holy crap, I'd just dive right in.
Plus, that nativity you saw in Trump's East Room decorations? The Obamas also had that in their East Room decorations, despite rumors to the contrary.
In fact, it's the same nativity scene that has been used by the White House since the 1960s, according to fact-checking website Snopes.
And here's a video giving you the full picture.
Just because ~Christmas~
Personally, I'm the kind of person prone to wild color, so I dig the Obamas' set-up a little bit more. But there's something classic and elegant (and, yes, creepy, we get it) about the Trumps' Christmas decorations. At the end of the day, however, they both bring joy and happiness, and that's what matters. So enjoy!