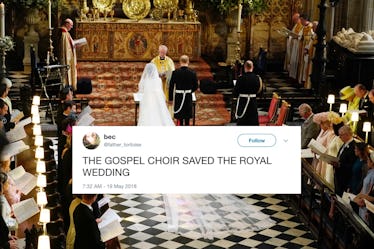 The Choir Singing At The Royal Wedding Seriously Has Twitter Shook
If you're not literally bawling all over yourself right now while watching the royal wedding, then I have to ask, are you even human? Or am I just too emotional? Actually, don't answer that second question. Personally, I really lost it when the choir started singing inside St. George's Chapel, and these tweets about the royal wedding choir show I'm definitely not the only one.
I'll admit, I'm a pretty sensitive person, so it really doesn't take very much for me to shed a few tears, and I knew ahead of time, going into my viewing of Meghan Markle and Prince Harry's wedding, that I would definitely be dealing with some waterworks. Well, here we are, people! The tears are full-on streaming down my face right now, but it's not just because Meghan looks so drop-dead gorgeous, or because of the loving way Harry's been looking at her this whole time. No, actually, I'm getting really emotional about the choir at the royal wedding and their breathtaking voices. I totally did not see this coming, guys.
I cannot handle my feelings about the royal wedding choir at all right now, and it seems like Twitter really can't handle it, either.
Seriously, "Stand By Me" was an incredible choice for the occasion. Did I mention I'm bawling?
LITERALLY SAME, LUCY.
To say the least, the royal wedding choir is definitely breaking tradition at this historic occasion, and I'm beyond here for all of it.
Such wow, very emotional, much tears.
You took the words right out of my mouth, Jared.
Someone will probably need to call an ambulance for me if someone breaks out the electric side at the royal wedding. I'M NOT READY FOR ANY OF THIS, GUYS.
Damn straight the royal family will never be the same again, and in the best way possible.
I'm pretty speechless, too. I never expected to have so many feelings about the choir at the royal wedding, of all things to get worked up over.
Same, I've got goosebumps from head to toe right now.
BTW, don't even get me started on when the choir started singing "This Little Light of Mine" as Harry and Meghan exited St. George's Chapel.
Clearly, I'm not the only one who was loving it.
This really is a pretty huge moment in royal history, so at least my tears are justified, right?
So far, every single detail of the royal wedding has been complete and utter perfection, and the choir is no exception.
According to ABC Online, the royal wedding ceremony included a rendition of Ben E. King's "Stand By Me," as well as "Amen/This Little Light of Mine" by Etta James. But it's not just the fact that the choir's singing in and of itself was so incredible. As the news outlet points out, it's these little details about the royal wedding that represent "the breakdown of barriers and reveals a more modern Britain where background is no bar to even the most elite and traditional of institutions." Guys, the world is often a really dark place these days, but it's things like this that give me life, and more importantly, give me hope about the future.
Diversity and inclusivity really did seem to be an unspoken, but nonetheless totally obvious theme at the royal wedding. ABC Online reports a black bishop from the U.S., Michael Bruce Curry, gave the wedding address — which, BTW, was one of the most passionate readings I've ever heard in my life, wedding or otherwise.
All in all, I wasn't quite sure what to expect going into the royal wedding, but so far, every single detail has, by far, exceeded all my expectations, and yes, I am still crying.