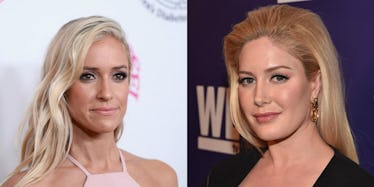 These Fans Of 'The Hills' Are Freaking Out Over News Of The Revival
Matt Winkelmeyer/Alberto E. Rodriguez/Getty Images Entertainment/Getty Images
Apparently, the VMAs aren't only about music. That became super apparent when a majority of The Hills cast members appeared on the red carpet together on Monday, Aug. 20. That's right: The most popular friend group of the '00s showed up for a reunion at the 2018 MTV Video Music Awards, and my teenage self is screaming. In addition to their highly anticipated pre-show gathering, the cast announced some news that'll make you cry happy tears. Apparently, there's going to be a Hills revival, so you can hop in your time machine to 2006 again. Between their reunion and exciting announcement, Twitter is absolutely losing it. In fact, all of the tweets about The Hills revival will overwhelm you with nostalgia. (They'll also prove that you aren't the only one craving the drama again.)
I, for one, am completely excited about The Hills reunion at the VMAs. I love a good blast from the past, and the cast's camaraderie is hyping me up for their next endeavor. Of course, the entire cast isn't there — and that's definitely a bummer. Still, most cast members showed up — Speidi was on the pre-show carpet — and I'm happy they were able to get together for diehard Hills fans watching the awards show.
Like I said, Twitter is pretty dang excited right now, and these tweets prove how much of an impact The Hills had on everyone's teenage years. People are obviously excited to see the gang back together again.
Before the cast of The Hills showed up for a VMAs reunion, there was chatter about their red carpet gathering. In fact, a few reports emerged days before the awards show announcing the cast's appearance. Elite Daily reached out to MTV at the time of the reports to confirm the cast's reunion, but did not hear back by the time of publication. However, since the cast members showed up, it's clear that the reports were true.
Per an MTV press release, The Hills: New Beginnings will debut in 2019, and it will "reunite original cast members, alongside their children and friends, and follow their personal and professional lives while living in Los Angeles." Although, which exact OG cast members will return hasn't been confirmed. Elite Daily reached out to MTV to confirm which returning cast members will join the revival, but has not heard back by the time of publication. If their pre-show appearance is any indication, you could see the likes of Audrina Patridge, Justin Bobby, and, of course, Spencer Pratt and Heidi Montag in the new series.
It all started when an inside source told People that the cast of the show would appear on the VMAs red carpet on Monday night. The source also told the publication that there would be a "big announcement" during their reunion, which was obviously correct.
People also spoke with former cast member Kristin Cavallari back in June, and she seemed onboard about reunion. Apparently, Cavallari said she "would love" to have a Hills reunion in the near future — but has hit a few roadblocks in the past. She told the publication that she "was about to sign a deal to do a Hills reunion with E!, and then Heidi and Spencer signed a deal with MTV." Since both cast members are "such a vital part of The Hills," a reunion was put on hold... that is, until now.
However, it's obvious that one cast member doesn't feel the exact same way — and that's Lauren Conrad. A source told E! News that Conrad didn't plan on coming to the VMAs since she's been so busy lately. The source said, "Lauren is concentrating right now on her Kohl's line and her charity work, which she is very passionate about." Well, maybe she'll show up next time.
Still, Twitter seems absolutely stoked about The Hills reunion and revival. TBH, I'm right there with everyone who's tweeting.